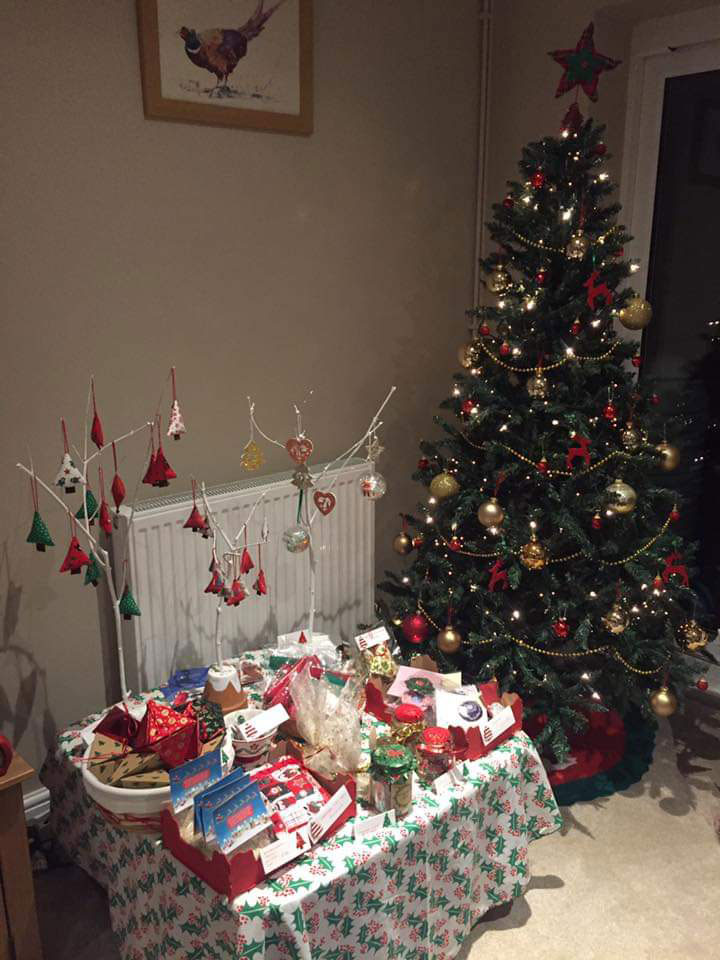 Throughout November on our walks, we discussed some fundraising ideas and decided that, with Christmas well on the way, it would be a lovely idea to hold a 'Mulled Wine and Mince Pie Christmas Charity Event'.
With this in mind, we started inviting friends and making some arts and crafts items to sell – a selection of Christmas cards, bunting and decorations were all in them mix. We were both so thankful for our wonderful mums, who joined in the festive spirit and helped with the making of some beautiful items – including some fantastic Christmas cakes!
Polly very kindly agreed to the host the evening – for which I am forever grateful, as it meant I didn't have to clean the house! With a gorgeous Christmas tree, some snacks and some drinks, it was a wonderful evening. So many friends turned up to show their support that it certainly got everyone in the festive spirit.
To keep us feeling festive, we also decided that we would do an evening training walk to take in all the Christmas lights. So, wrapped up warm and with head torches on for the darker sections, we set out on a Wednesday evening. And what a treat it was! There were lights and a sense of fun everywhere – and we even timed it right and saw Santa out on his sleigh (OK, so he was being pulled by a Ford transit and not reindeer, but you win some and lose some …). We finished with a warm-up in the form of a mug of hot chocolate and felt we had started our Christmas season in style.
A planned long walk on the 22nd December followed by a Christmas dinner for us, our other halves and my brother will complete this year's training schedule – we will have to step it up next year, as we have suddenly realised how quickly May will roll around.
Thank you to everyone for your support so far – we are currently up to £80 out of our £250 target!
If you would feel you would like to support us – Steph and Polly – on our walk and would like to help us reach our target of £250, we have set up a donation page which can be found at:
https://mydonate.bt.com/fundraisers/dinosaurduo
Written by Stephanie Carter RDT, RDH, CTLLS, TAQA.
Stephanie is a tutor and assessor at Dental Nurse Network and is currently raising funds for Dentaid.
Read her last blog here.