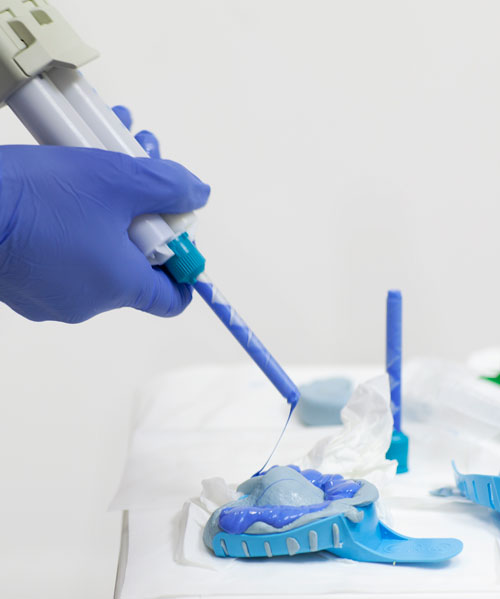 The Advanced Impression-Taking course is suited to registered dental nurses, hygienists and therapists. You must have completed alginate impression training prior to attending the course, and you must provide certificate proof of this if you completed the training through another course provider.
You will learn to take two-step putty impressions, a wax bite impression, and a silicone bite impression.
---
What impressions will you take?
Silicone putty impressions suitable for:
Short term orthodontic systems

Invisalign

Inman Aligner

6Months Smiles
You will also learn:
Impression taking science;

Patient care;

GDC Standards including informed consent;

Health and safety considerations;

Infection control procedures;

How to assess/grade and reflect upon impressions.
---
The course includes:
A one-day workshop;

An Impression- taking booklet;

A Record of Experience portfolio.
---
Record of Experience Portfolio:
To complete your ROE, you will need to work under the supervision of a registered dentist. You have up to six months to complete your portfolio. On completion, you should simply scan or post a copy of your ROE to Dental Nurse Network. Assessment of the portfolio may take up to twenty-one working days. If the assessor does not grant a pass mark, you will be given feedback and instructions to take more impressions under supervision.
---
Certificate awarded:
You will be awarded a certificate of attendance after completing the hands-on training. A certificate of competence will be awarded upon successful completion of the Record of Experience portfolio.
Verifiable CPD awarded: Eight hours
---
Entry requirements:
You must be registered with the General Dental Council. Before booking, make sure the dentist you work with is happy to support you throughout your training.
---
Scope of practice:
GDC-registered dental nurses can take impressions to the prescription of a dentist or CDT as long as they are competent and confident to do so.
---
Course Fee: £100.00 for applicants who have already attended the impression-taking beginners level course. £130.00 for other applicants. (Henry Schein customers can claim 10% off the £130.00 fee. Apply by telephone and give your Henry Schein account number to reception.) Book and pay online below, call 020 7193 0584 (Between 08:30-17:30pm), or request an invoice.
Date: Saturday 3rd June 2017, Central London
Time: 09:00-16:00
Venue: Henry Schein Dental, 18 Stanhope Place, London, W2 2HH
Sponsors: Henry Schein Dental
---