E-Learning Impression-Taking Course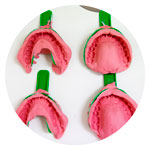 The DNN impression-taking course is designed so that any nurse in any part of the UK can complete their competency training. To enroll, you must be GDC registered, you must be employed, and there must be a registered dental professional able to supervise you.
The course is suited to nurses who aspire to treat patients directly and take impressions under the prescription of a registered dentist or clinical dental technician. Suited to nurses working in both private and National Health Service.