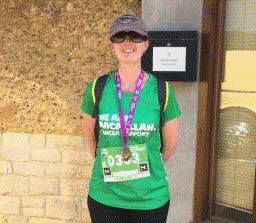 As many people who know me are aware, I am always looking for a new challenge. So far, I have completed the Clarendon Walk, the Jurassic Coast Challenge and the Great South Run, to name just a few. I have now decided that I need a bigger challenge, so I have signed up to the London 2 Brighton Challenge, the aim of which is to walk 100km (around 63 miles) in 24 hours. Luckily for me, my Jurassic Coast Challenge (hence the team name 'Dinosaur Duo') walking friend, Polly, was persuaded to join me on this exciting (and possibly slightly crazy) adventure.
The walk is taking place on 25th/26th May 2019 ... so there is plenty of training time (?!)
Having decided on the adventure, the next step was to select a charity to support and walk for – not only to raise money for the charity but to provide us with some well-needed motivation! I work as a dental hygienist and nurse, so for me, the choice was easy:

Dentaid is not only a fantastic charity that provides dental care and education both in the UK and abroad, but it is a local charity to me (Steph), with its headquarters just down the road in Hampshire.
Over the next few months, I thought it might be interesting (at least for me and Polly!) to write short blog posts updating people on our training progress and providing information and updates on Dentaid's work. So be prepared for bad pictures / stories of blisters / hearing about us feeling sorry for ourselves. Hopefully, by the time we complete this challenge (we know we will!), you will feel as involved in it as we do!
So, keep an eye out on the Dental Nurse Network news page for updates
If you feel you would like to support us – Steph and Polly – on our walk, we have set up a donation page, which can be found at:
https://mydonate.bt.com/fundraisers/dinosaurduo
Written by Stephanie Carter RDH, RDT, CTLLS.