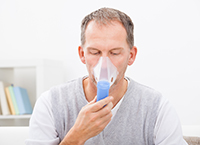 I have been working as a dental nurse since 2006. I have always been interested in dentistry, and for a long time have wanted to understand whether it is possible to feel relaxed during a dental examination. As a child, I spent many hours in a dental surgery because of the enamel defect on my front teeth.
I was always very anxious and worried prior to my appointments.
Nowadays, my dental nurse work is in a hospital environment, and I deal with a huge variety of patients and dental cases. However, I can see that having a dental appointment is a big issue for most of our patients. Even a simple check-up appointment is impossible for some patients due to phobia and severe anxiety over possible pain and discomfort.
As soon as I graduated as a dental nurse, I became interested in the inhalation sedation technique, which is commonly used at my workplace to help patients fight severe stress.
Inhalation sedation is a form of conscious sedation which uses a mixture of gases to calm the patient during a dental procedure. The two main components of the sedative are nitrous oxide and oxygen - this mixture delivers a mild form of sedation to the conscious patient.
The equipment for inhalation sedation includes oxygen and nitrous oxide cylinders and a tubing system which delivers the gases to the patient's breathing system. A small-sized mask is placed on the patient's nose during the treatment. This requires the air to be inhaled and exhaled via the nose only. After ten or so minutes of slow, relaxed breathing, the patient starts to feel heavy and warm all over their body. Their eyes become heavy and their anxiety fades away. The patient continues to take deep breaths through their nose during the entire procedure. Once the dentist has finished the procedure, the gas is switched to oxygen only, and the sedation is completed. As soon as the patient is happy with the outcomes of the visit, he or she can go home.
I have been working with this type of sedation every day, and in my opinion it does a great job, especially with children and special needs patients.
The biggest advantage of inhalation sedation is the quick onset and finish of the sedation effect. It is non-invasive and does not require needles. It has a very safe metabolism rate and it is easy to monitor the level of gases administered so as not to over-sedate the patient. The mixture of oxygen and nitrous oxide is odourless and gradually makes the patient feel at ease. The masks used to administer the gas are made of soft rubber, are non-irritating to the patient's skin, and are easily sterilized. Masks with different scents are available in order to make the experience more fun for children.
Nitrous oxide and oxygen have no side effects, and a patient can be sent home a short time after the appointment is finished.
During my eight years of experience in working with inhalation sedation, very few patients have refused to try sedation, and 99% of outcomes have been very positive. The technique makes patients feel more calm, relaxed and safe; they are in a dream state, with their minds focused on nice events. Children often dream of Disney castles, space ships and diving. The idea of floating on the water helps children to cope with the local anaesthetic injection and feeling of numbness.
Inhalation sedation works extremely well with children because they are not afraid to lose control of the situation and become unaware of the present moment. It also shortens the length of the visit, and thus allows the dentist to work for longer if necessary.
Special needs patients can benefit from inhalation sedation during joint displacement and TMJ disorder procedures, as it can ease their pain. They can try to let go and enjoy the feeling of a relaxed mind. However, some adults are afraid to let go, and keep themselves very tense. Tense muscles and blockages will not allow the gas to penetrate the entire body and bring the mind into a state of full relaxation.
Whilst inhalation sedation is a very useful tool in modern dentistry, the technique has some minor drawbacks. One of the main problems relates to nose blockage; people with allergies and blocked noses will not benefit from the method. The position of the nose hood can be also problematic for the dentist, depending on the type of treatment being provided. For this reason, the sedation technique cannot be used for procedures such as removal of upper impacted canines.
Any dental practice willing to work with inhalation sedation needs to invest enough money both to buy the equipment and to ensure that they have both a dentist and a nurse who are sedation-qualified. It is very important to have trained staff in case of any medical emergencies during the inhalation sedation procedure or any equipment failure.
I gained my post-registration sedation qualification a year after gaining my dental nurse qualification. Since then I have worked with inhalation sedation every day, taking turns with my other colleagues so as not to over-expose myself to nitrous oxide waste gases. I think it is very important to understand the process of sedation in terms of how it works, how it can affect the patient, and how we can help the dentist to introduce the patient to the new inhalation sedation technique. Part of my job involves checking the machine before and after every procedure. I need to make sure that the cylinders are full and that we have enough oxygen in reserve. I prepare the machine for the dentist and myself so that it is ready to be used when required.
I also introduce the patient to the nose hood, and start administering the nitrous oxide and oxygen to the patient while the dentist is getting ready for the procedure. I am in charge of the patient as much as the dentist is. I use my voice to guide the patient into the breathing system. Once the patient feels relaxed and is ready to start, the dentist takes the initiative. During the entire inhalation sedation procedure, the nurse should monitor the patient and look for any signs of over-sedation. The main symptoms are closed eyes, snoring, lack of response to communication, and reduced chest movement. It is always advisable to monitor the sedated patient during the procedure and to inform the dentist of any concerns.
Any registered dental nurse who wants to work with conscious sedation clinics and is interested in the post-registration sedation qualification must pass the national exam. I do not recommend working with sedation on the prescription of a clinician without having this qualification, in case of any complications arising with a procedure – if this occurs, the nurse may lose their GDC registration number.
The exam itself is organized by NEBDN, and takes place twice a year in different examination centres across Great Britain. The exam has both written and practical elements, and it is advisable to attend a six-month course (which also has theoretical and practical content) in preparation. Candidates are also required to complete a record of experience portfolio, and will need to either find a relevant placement or ask a dentist with whom they already work to sign off the number of hours they have spent assisting with inhalation sedation.
The most extensive and important part of the exam relates to medical emergencies. We are all already familiar with medical emergency procedures in dental practices. As health professionals, we need to know how to deal with everything from simple fainting to complicated cardiac pain. It is even more important for us to be able to assist with a medical emergency during sedation, because the rate and depth of breathing is reduced due to muscle relaxation.
The exam is a combined qualification and teaches inhalation sedation as well as intravenous sedation. It is very good post-registration qualification, and I am very happy to have it.
My advice to newly qualified sedation nurses is not to be afraid, and to use the skills as often as you can. The more you practise, the better the sedation service you can provide. However, bear in mind that not every patient will be happy to sign the consent form for inhalation sedation. People with different beliefs and from different ethnic groups visit dental surgeries every day. I see a large number of children from the orthodox Jewish community. Jewish history and the backgrounds of many Jewish people mean that inhalation sedation may present a major challenge in terms of the fear of gas. Nevertheless, with the support of a sedation nurse and parents, this can often be overcome, and dental visits can even be fun.
In conclusion, I think that inhalation sedation is a great way to introduce anxious and phobic patients to dental treatment. It has been used for many years for different procedures and is highly successful.
Written by Sylvia Bourgeois
Sylvia is a Registered Dental Nurse with a Masters in Chemistry, NEBDN Sedation Certificate and Adult Teaching Diploma.