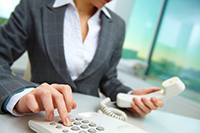 For any business, the front of house is a key selling point. The first time a patient looks into the window of your waiting room, they will decide whether they want to step inside and become part of your practice. Not only are the people behind the desk important, but so is the presentation and the layout of your surgery.
Patients are becoming increasingly demanding, and take time to shop around and compare the prices and treatments on offer. Patients also consider convenience and locality, as they want to be able to attend appointments without too much disruption to their already busy lives. It is an advantage to be able to provide your patients with all forms of dentistry under one roof, and to offer extended opening hours and variations in appointment times.
In order to be able to sell your product, your reception staff should be fully aware of what it is that your surgery can offer to its patients. Receptionists are the nerve centre of your practice - they are the first point of contact and should be both well-groomed and trained to handle all queries with regard to prices, treatment options, and each dentist's speciality (in addition to general dentistry).
A receptionist with a smart look, good eye contact, clear speech and a friendly disposition is a winning formula. Receptionists must dress well - it should be the most noticeable thing about them. They should cultivate a smile that is friendly and sincere, and should smile no matter what is going on in the background. They should exude confidence and energy, and should always look fresh and energetic, ready to take on any challenge that is thrown at them. Being attractive is easier to acquire than good looks; being attractive means having charisma, charm and magnetism. A professional receptionist should never slouch or slump behind the desk and should never look scruffy.
Receptionists should be well-spoken, and should never mumble, as this could lead to them being misunderstood by patients and other members of staff. They should remember to be clear, pleasant and precise when speaking, and to receive patients in a pleasant manner.
The most important task for a professional receptionist is to deliver a high quality reception service. This means ensuring that up-to-date records are maintained on the system, as it is vitally important that all patients are contacted with reminders of their forthcoming dental appointments. As receptionists are the first point of contact for patients, they are likely to be the first to deal with complaints. Receptionists should be well-equipped to deal with complaints, and should be trained in practice procedures and policies to ensure that grievances are dealt with effectively. Complaints are then generally dealt with by the Principal Dentist or Practice Manager.
The attitude and behaviour of receptionists is crucial to patient satisfaction and public profile. Nobody likes going to the dentist, but cheerful and professional staff who do everything possible to make a patient's visit pleasant increase the chance that the patient will return, and will also refer his or her family and friends to the practice. We need to ensure that the dental fraternity is well thought of by the public at large.
Written by Sharon Holmes