Oral Cancer
Oral cancer is relatively rare in the United Kingdom however it is on the rise. According to The Mouth Cancer Foundation (2002) about 4000 people were diagnosed and treated for oral, pharyngeal, lip, or salivary gland tumours. In 2010, 6,539 people in the UK were diagnosed with oral cancer. (Cancer research UK, 2013). In 2010 there were 1,985 deaths from oral cancer in the UK. In 1996-1999, around 50% of adult oral (cavity) cancer patients (47.2% of men and 55.4% of women) in England survived their cancer for five years or more.
How do cells become cancerous?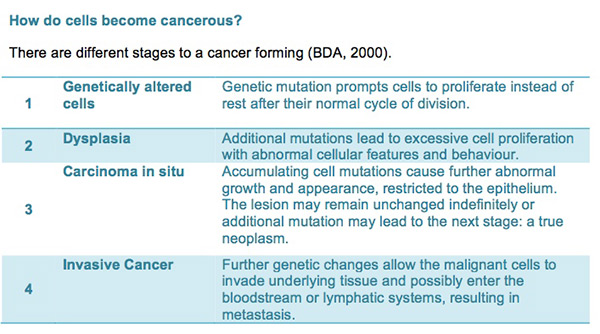 The Signs and Symptoms
In its very early stages, mouth cancers can be almost invisible making it easy to ignore. Chances of survival are improved if the cancer is detected early and rapidly treated. It is important to have self-awareness and to perform regular, self-examinations to help in the early identification. (Mouth Cancer Foundation, 2002) Common symptoms include:
 A sore or ulcer in the mouth that does not heal within three weeks.
 A lump or overgrowth of tissue anywhere in the mouth.
 A white or red patch on the gums, tongue, or lining of the mouth.
 Difficulty in swallowing.
 Difficulty in chewing or moving the jaw or tongue.
 Numbness of the tongue or other area of the mouth.
 A feeling that something is caught in the throat.
 A chronic sore throat or voice change (hoarseness) that persists more than six weeks, particularly smokers over 50 years old and heavy drinkers.
 Swelling of the jaw that causes dentures to fit poorly or become uncomfortable.
 Neck swelling present for more than three weeks.
 Unexplained tooth mobility persisting for more than three weeks - see a dentist urgently.
 Persistent nasal (especially unilateral)l nasal obstruction, particularly associated with mucus (clear, purulent or bloody) discharge causing difficulty breathing through nose.
 Unexplained persistent earache.
Who is at risk?
Almost three-quarters of oral cancers in men and more than half in women in the UK are caused by smoking. More than a third of oral cancers in men and almost a fifth in women in the UK are linked to alcohol consumption. Using smokeless tobacco increases oral cancer risk. Betel quid is widely used in many parts of Asia and in some Asian communities in other regions. Chewing betel quid with or without tobacco increases oral cancer risk. Infection with the human papillomavirus (HPV) increases risk of oral cancer, particularly in the oropharynx. A diet rich in fruit and vegetables reduces oral cancer risk. More than half of oral cancer cases in the UK are linked to insufficient fruit and vegetable intake. (Cancer Research UK, 2012)
Mouth cancer incidence has always been strongly related to age. In the UK, just under half of all mouth cancer cases were diagnosed in people aged 65 and over, with more than a quarter diagnosed in the under 55s. (Mouth Cancer Foundation, 2002) Although the gap has significantly diminished over time, men are still twice more likely to develop mouth cancer than women, although for men, age-specific incidence rates peak at ages 60-69, whereas for women it peaks in the over-80s.
Given the most well established risk factors for the major types of oral cancer are excessive alcohol consumption and smoking, it is not surprising that mouth cancer incidence is strongly associated with deprivation. The most recent England-wide data shows incidence rates for head and neck cancer are more than double (130 per cent) for men living in more deprived areas compared with the least deprived, and more than 74 per cent higher for women. Similar results have also been published for Northern Ireland and Wales while Scotland shows an even larger deprivation gap. A study published in December 2011 estimated that, in the UK, about 93% of oral and pharyngeal cancers in men and 85% in women are linked to lifestyle and environmental factors (Parkin et al 2011).
Risk Factors
Smoking
Around a fifth of the UK's population smoke and the habit is still considered the leading cause of mouth cancer. According to the World Health Organisation, up to half of current smokers will eventually die of a tobacco-related disease, including mouth cancer. Smoking helps to transforms saliva into a deadly cocktail that damages cells in the mouth and can turn them cancerous.
Alcohol
Drinking to excess can increase mouth cancer risks by four times. As alcohol aids the absorption of tobacco into the mouth, those who smoke and drink to excess are up to 30 times more likely to develop the disease.
Poor diet
Around a third of cases are thought to be linked to an unhealthy diet. It is recommended that people eat a healthy, balanced diet including five portions of fruit and vegetables each day. Increasing evidence also suggests that Omega 3, found in foods such as eggs and fish can help lower risks, as can foods high in fibre such as nuts, seeds, whole-wheat pasta and brown rice.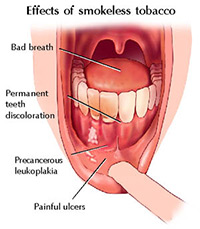 Chewing or Smokeless tobacco
Smokeless tobacco is normally defined as any tobacco product that is placed in the mouth or nose and not burned. Although some people believe this type of tobacco is safer than smoking, the reality is that it is much more dangerous. The types of smokeless tobacco products most used in the UK often contain a mix of ingredients including slaked lime, areca nut and spices, flavourings and sweeteners. The terminology for smokeless tobacco varies, but the main types used in the UK include:

• Gutka, Khaini, Pan Masala (betel quid), Shammah and Maras powder (these are sucked or chewed);
• Zarda, Qiwam, or Mawa (chewed);
• Lal dantmanjan, Gadakhu, Gul, Mishri, or Creamy Snuff (dental products which are used as toothpaste or rubbed on gums);
• Nass (can be used nasally, sucked or chewed).

Smokeless tobacco is used particularly by South Asian Communities, especially women. The incidence of mouth cancer is significantly greater among South Asian women. Other parts of South Asian communities are also more at risk from the effects of smokeless tobacco including: people of Bangladeshi origin; those in older age groups; and people from lower socioeconomic groups.
Human Papilloma Virus (HPV)
The Human Papilloma Virus, transmitted via oral sex, is increasingly being linked to mouth cancer. Younger people are particularly at risk. A recent study in the USA has connected over 20,000 mouth cancer cases to HPV in the last five years. Experts suggest it may rival tobacco and alcohol as a key risk factor within 10 years, although some research indicates that people with mouth cancer caused by HPV may have a greater chance of survival. People with multiple sexual partners are more at risk.
Oral Cancer and the Dental Team
Dental teams have a unique opportunity to in the detection of mouth cancer, in several practical ways. The dental team are in contact with those in the key risk groups on a daily basis.
The FDI World Dental Federation recognises that oral cancer is a major public health issue worldwide, where cancer of the lip, mouth and pharynx combined is the sixth most common site of malignancy. Oral cancer remains a highly lethal and disfiguring disease. Therefore, a systematic oral mucosal examination, by visual means and digital palpation, should be part of every dental examination procedure and every dentist must be aware of the most rapid and adequate referral pathway for the effective management of these lesions. (BDA, 2000)
The General Dental Council in the document published, 'Standards for dental professionals' sets out six main principles which should be followed in all areas of patient care. The first principle set out is to "put the patients' interests first and act to protect them" this would include in a clinical sense, ensuring that a thorough examination is carried out that would allow any risk factors and suspicious oral lesions to be recognised and assessed accordingly. Although not currently a recommended topic on the list of CPD core subjects for dental professionals, the GDC (2013) has confirmed that Oral Cancer: Improving Early Detection is to be included as a 'recommended' topic in its Continuing Professional Development scheme when new recommendations are introduced in 2014.
According to the BDA paper Opportunistic Oral Cancer Screening: A management strategy for dental practice (2000) Dental Nurses should:
 Understand the medical history sheet and be able to help patients experiencing difficulty in answering the questions
 Make accurate notes of the dentist's observations during head, neck and soft tissue examination, using agreed conventions
 Confirm in patients' records that a visual and palpatory examination has been carried out
 Assist with tolonium chloride tests, if used, and be able to answer patients' questions about the test
 Support patients emotionally during oral cancer screening
Prevention of Oral Cancer
Helping patients become more aware of what they can do to prevent oral cancer is important for all health professionals. This can be achieved by several methods: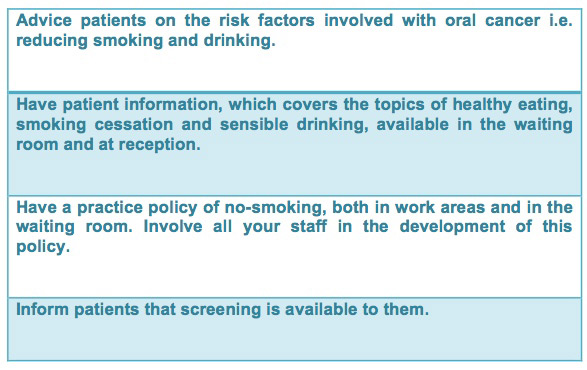 Record Taking and Clinical Examination- Advice taken from Mouth Cancer Action (BDHF, 2013)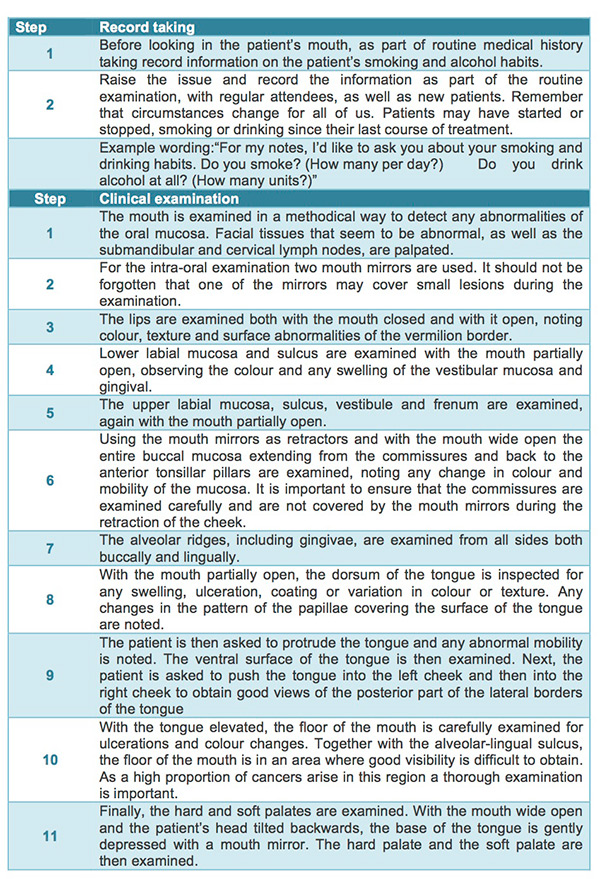 During the soft tissue examination, any areas of concern should be entered onto a mouth map to show the site and the size of a suspicious lesion. This is especially useful when the patient returns to be checked or indeed should they need to be referred to a specialist. Note the colour, texture and mobility.
Patient Counselling
Patients often have strong suspicions about the possibility of an abnormality in their mouth being malignant, cancer, or "nasty". The primary health care team is best placed to deal with these concerns in a sympathetic and professional environment.
One of the most important issues is to allow the patient to discuss his/her fears and concerns. The patient must feel in control of the speed and depth of the discussion. To enable the patient to express their feelings a clinician may ask questions such as: "What do you feel is going on in your mouth just now?" "Do you have any concerns about this ulcer (area, "sore bit" etc.) in your mouth?" When a patient needs to be referred to a specialist for further tests, the patient needs to leave the practice feeling informed and secure. For example, if a patient were to say, "how serious is it?" "Is it cancer?" a suitable reply may be: "I don't think we can jump to any conclusions at this stage, because many different conditions occur within the mouth. That's why seeing a specialist is so important."
The patient should be encouraged to return or contact the surgery for further discussion/support as and when they feel the need. The clinician should explain to the patient the procedure that may take place at the specialist unit i.e. that a biopsy may be performed under local anaesthesia, and that clinical photographs may be taken.
Referral
If an abnormal area has been identified in the oral cavity, a biopsy is the only way to know whether it is malignant. This should be carried out in a specialist unit. In the first incidence, telephone contact should be made with the specialist unit, to identify who needs to deal with the patient, as this will reduce unnecessary waiting. Following the telephone conversation a formal letter of referral should be addressed personally to the consultant and marked urgent.
What to include in a referral letter.

Conclusion
Although Oral Cancer is fairly rare, it is on the up rise and has high morbidity rates. Early detection is essential in increasing the prognosis. The dental team have a responsibility to patients to ensure their mouths are thoroughly examined and their medical and social history assessed to risk assess the patient for oral cancer risks. In 2014 oral cancer screening will become a recommended topic for CPD by the GDC therefore all registrants will need to keep up to date in this subject area. Dental professionals are in a prime position to recognise oral cancer and also raise awareness so that risks are reduced to the patients we see.
References
British Dental Association, 2000. Opportunistic Oral Cancer Screening: A management strategy for dental practice. [online] Available HERE.[Accessed 05/2013]
British Dental Health Foundation (BDHF), 2013. Mouth Cancer Action: the role of the dental team. [online] Available HERE. [Accessed:05/2013]
Cancer Research UK, 2013. Oral Cancer Statistics. [online] Available HERE [Accessed 05/2013]
General Dental Council, 2013.Press Release: Oral Cancer - Improving Early Detection. [online] Available HERE [Accessed: 05/2013]
Mouth Cancer Foundation, 2002. Protocols. [online] Available HERE [Accessed:05/2013]

Parkin, D,M., Boyd, L., Walker, C., 2011. The fraction of cancer attributable to lifestyle and environmental factors in the UK in 2010. Summary and conclusions. British Journal of Cancer; 105 (S2):S77-S81.
Toth BB et al., 1995. Minimizing Oral complications of Cancer Treatment. Oncology; 9, p9