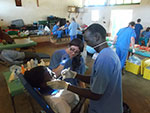 Dentaid Uganda
Sarah Byrne has been a dental nurse for 13 years. She went for a check up at the dentist and the dentist said to her, 'You seem like an organised girl, would you like to come work here?'
Sarah, 'I loved it from the beginning. I used to run a petrol station but now I wouldn't change what I do for anything. I have worked in my practice now for 13 years.'
Sarah first heard about Dentaid when a dentist came to work in her practice and told her about a Dentaid project they'd been on. Sarah was inspired and within a few days her trip to Uganda was booked.
'It all happened really quickly. I never thought I would ever do anything like it. I thought it would be a really scary thing to do but it wasn't, it was exciting from the moment I knew I was heading out there.'
Sarah was in Uganda for two weeks, working alongside Louise Bambrick (see article.)
'I'd read the website and felt prepared but the truth is you have no idea what it is going to be like until you get there. I was warned I would feel overwhelmed and sad at times but I couldn't take the smile off my face the whole time I was there.'
In just 10 days Sarah, Louise and their teams saw nearly 1000 people.
Sarah, 'We worked with three Ugandan dentists and it was fascinating to see how they worked. In some areas of Uganda there is no electricity or water. These dentists showed us how for example, they prepared cavities for fillings just using hand instruments. It was extremely educational.'
Sarah described a story of an old Ugandan lady who had had tooth ache for a year and was suffering from a lot of pain. Sarah worked alongside an oral surgeon to help with an extraction. When the treatment had finished the woman turned to Sarah and said, 'You guys are magic, I didn't feel a thing.'
Sarah expressed that her trip to Uganda had changed her as dental nurse and as a person.
Sarah, 'I thought I was good nurse before but now I think I'm an even better one.'
Sarah had to raise £2500 for Dentaid to fund her trip. She raised the money personally and by help from patients, family and colleagues. Money needs to be raised for suitcases, materials, needles, gloves, filing materials etc. Sarah also raised money to pay for her flights and accommodation.
In September Louise Bambrick and Sarah Byrne are both planning to do a sponsored skydive to raise funds for their next Ugandan trip next year.
Sarah, 'It will change you as a dental nurse. You will appreciate what you do. It makes you more passionate about dentistry.'
Dentaid also organise trips to other places such as Cambodia and Morocco. Please visit the Dentaid website for more information here.