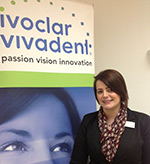 Ivoclar Vivadent is a leading international dental product manufacturer with a comprehensive system of product for Dental Professionals.
How would you describe it?
The company based in Lichtenstein with offices worldwide, focuses on three major dental product areas: composites, all-ceramics and implant esthetics with our products shipped out to over 120 countries worldwide. For dental professionals, Ivoclar Vivadent offers products and product systems for prophylactic and restorative procedures, as well as treatment processing.
These products address dental needs for disease prevention, identification, treatment and dental reconstructions.
Globally, Ivoclar Vivadent has subsidiaries and marketing and sales offices in 22 countries and with more than 2700 employees throughout the world. Our company values, strategies, products and services are based on three success factors: Passion – Vision – Innovation. They define our direction and shape the solutions we develop today for tomorrow's dentistry.
Were you a dental nurse first?
Yes, I was a dental nurse for 14 years after qualifying from Kings College Hospital, London. I grew up in a predominantly dental family with, my mother a dental nurse, my father a dentist and my brother is now a dental technician.
What did you most enjoy about being a dental nurse?
I loved surgery. I assisted an Apisectomy when I was just 15 years old whilst on work experience. Then when I attended Kings my favourite rotation was Oral Surgery and Theatre, where I spent most of my time, I would even take the opportunity to start early in the mornings so I could watch and gain knowledge on the different procedures taking place.
What did you enjoy least?
There isn't really a part of dentistry I didn't enjoy. The most tiresome part for myself as a nurse would be Root canal treatment. Although to the end of my dental nursing career even this became more interesting with new technologies and the industry progressing.
How did it come about, working for Ivoclar Vivadent?
I felt I needed a change from being dental nurse and wanted a new challenge while still working within the industry that I loved. A rep came into my practice and I mentioned I was looking for a job. He said he knew of a fantastic position within a fast paced, innovative and exciting company. Ivoclar Vivadent is a great company to be a part of as they encourage career progression and growth. It was important for me to find an environment that could make use of my previous vast knowledge. I also wanted a career path that would make my family and son proud of me, one that he may also want to follow me into in years to come…still keeping Dental in the family!
What made you decide to go into sales?
I had lots of support from my practice, and my parents, who I worked with, thought it was the ideal job for me. I am very much a people person and easily build strong relationships with people, which is very important in a role such as this. My interview was with Amanda Jukes (see Q&A with Amanda Jukes) and it was conducted at my practice, in a seminar room, at first I was nervous but I soon realised what a great and supportive company Ivoclar Vivadent were and was desperate to be a part of such an innovative and forward thinking company.
What do you enjoy most about your new role?
I don't always have to do the same thing and I love being my own manager. I decide where I get to go every day and no two days are the same. I get to go to lots of different places as well and meet a variety of people. I'd say the best part of my job is when you make a sale as it gives you such a great buzz. When a dentist listens to you and decides to go with what you think and buy you products, it is very rewarding as you know how our products will improve their working environment and efficiency. I think educating about our leading range of products and helping people is the best part of what I do, leading to a win win for everyone!
What dental nursing skills do you think you transfer?
Every dentist is different and some dentists can be hard to communicate with as many don't like to talk to reps. I think being a dental nurse, helped to give me an understanding of 'the other side of the chair' and understand the challenges faced in the market. You need to know what dentists are like, what they need and how to talk to them. Being a dental nurse I worked in patient's mouths, and therefore this taught me what the materials are and how you use them. When dentists know you have clinical background, they are more willing to talk to you as they don't just think that you are just trying to sell them something.
Is there much training involved in your job?
Ivoclar Vivadent is very proactive on constantly updating our product knowledge and ensures that we see a specialist trainer every month. Ivoclar Vivadent trainers are industry experts that are on hand to make sure that we fully understand our products, their usability and are doing everything right. As an innovative and market leading company, we release products every year so continual product knowledge is paramount. Ivoclar Vivadent outstanding commitment to continual product training provides us with all the information for those awkward, technical and medical questions a Dentist may ask!
Is it competitive to get into?
The Dental environment is very competitive but we are fortunate to be part of a company that is growing and expanding continuously. In the last few years we have had outstanding growth, increased market share and a significant employee investment.
What advice would you give dental nurses who might want to follow in your direction?
Do it, think about where you want to go and who you want to be, just go for it. Always educate yourself further; otherwise you'll get left behind.
This email address is being protected from spambots. You need JavaScript enabled to view it.