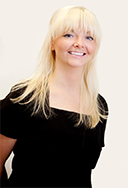 We all think being a dental nurse is about sucking spit and scrubbing instruments and when I first started in practice it pretty much was. However, these days there is so much more to the role. Even starting out as a trainee there is so much to learn and many places the role can take you.
I have been working as a dental nurse for 12 years now, it is a job I fell into as a teenager. I first applied for a job as a receptionist, after leaving school. I ended up in surgery working with a real old school dentist. At 18 years old this was quite a scary experience but I survived, lived to tell the tale and enrolled on the Dental Nurse NVQ at the local college.
I loved the course and I ended up moving to a practice that offered more extensive treatments like surgicals and working with a dentist who was trained in Maxillo facial. This meant we did all sorts of surgical treatments, including implants. These treatments really caught my attention and I learnt a great deal. I found it all fascinating. I also worked with an Orthodontist once a month. I didn't find this quite as interesting but again I learnt so much from the team I was working with and I passed my exams with a distinction.
Since then I moved on. I worked in many practices, worked as an agency nurse and even did a stint in a hospital. Not everything was enjoyable but I have found all the experiences and working in different environments has made me a well rounded nurse.
When I started my current role as a Treatment Co-ordinator I was unsure if I wanted to stay in the dentistry industry, with all the new rules including having to be registered and paying for it ourselves! But at the time the job was a job. I am now glad that I stayed, I have progressed more than ever in the last three years of working here.
I was first introduced to Impression Taking when my boss sent me on an Impression Course to take Invisalign Impressions and photos (to save him time). I wasn't even aware nurses could do things like this (I hadn't paid much attention to scope of practice). However, this Impression Course really grabbed my attention. I learnt what we as nurses could do and it gave me a better understanding of the range of practice that is available for a dental nurse. After the day course and learning how to take Impressions I went back to the practice and completed a portfolio of the experience. This portfolio helped me prove my ability and gave me the confidence I needed to work with patients and take high quality Impressions.
I then became really busy in the practice, taking impressions for all sorts: study models, retainers, whitening trays, Invisalign, Inman aligners and six month smile. It was really good to have more interaction with patients and be confident in my own abilities.
Since then, I have also had extensive coaching and training days with Laura Horton to become a practice Treatment Coordinator. I now see all new patients that come to the practice. My role is to get to know them, put them at ease and build relationships with them before they go into the surgery. This role has inspired me to develop my communication skills and I have been amazed at patient's responses to meeting me before seeing the dentist. A Treatment Coordinator removes the clinical environment that often makes patients nervous. It is easier to establish exactly what patients want from the services we offer when we put them at ease with an informal chat. This is by far my favourite role, having a chat and a cup of tea whilst getting to know new people. I have also completed photography courses so patients get sent up to me at the beginning and end of their treatments for photos. I have my own diary now to see patients alongside the dentist, to help explain procedures to patients which sometimes dentist don't explain in the simplest terms and to also help them work out their finances.
Teaching
I have moved on a lot since that initial course and I now teach the same Impression Course which I was first sent on. I have completed a teaching qualification which was challenging but well worth the time and effort. It is so rewarding to give other nurses the skills and confidence to go into practices with more responsibility and the confidence to interact with patients. Whilst doing my teaching qualification I was lucky enough to get a part time role teaching the Dental Nurse NVQ at the local college and what a fantastic experience it was. I really enjoyed meeting many young, promising dental nurses that were passionate about a career which could take them somewhere. This is definitely a direction I would love to pursue further and would encourage others to do too. All the skills I have learnt have changed our practice and the way we worked before. I save valuable time for our dentist so they can get on with the real dentistry. Being the TCO in the practice removes the non-clinical aspects of dentistry from the dentist and gives a great level of customer service. For example, the popularity of quick cosmetic braces has come about incredibly quickly and the impression required by most of the laboratories is a very similar silicone impression and often a similar series of photographs are required too. This appointment can take a dentist 30 minutes but if that duty is be passed over to a nurse, therapist or hygienist the time and money saved can soon pay for the cost of training and more.
A large part of our role is sucking spit and scrubbing instruments but that is not all we do. There is so much available in our scope of practice. This makes it well worth gaining further qualifications and training. We can progress ourselves, improve our employment and salary prospects. The future is looking bright for dental nurses in the years to come.