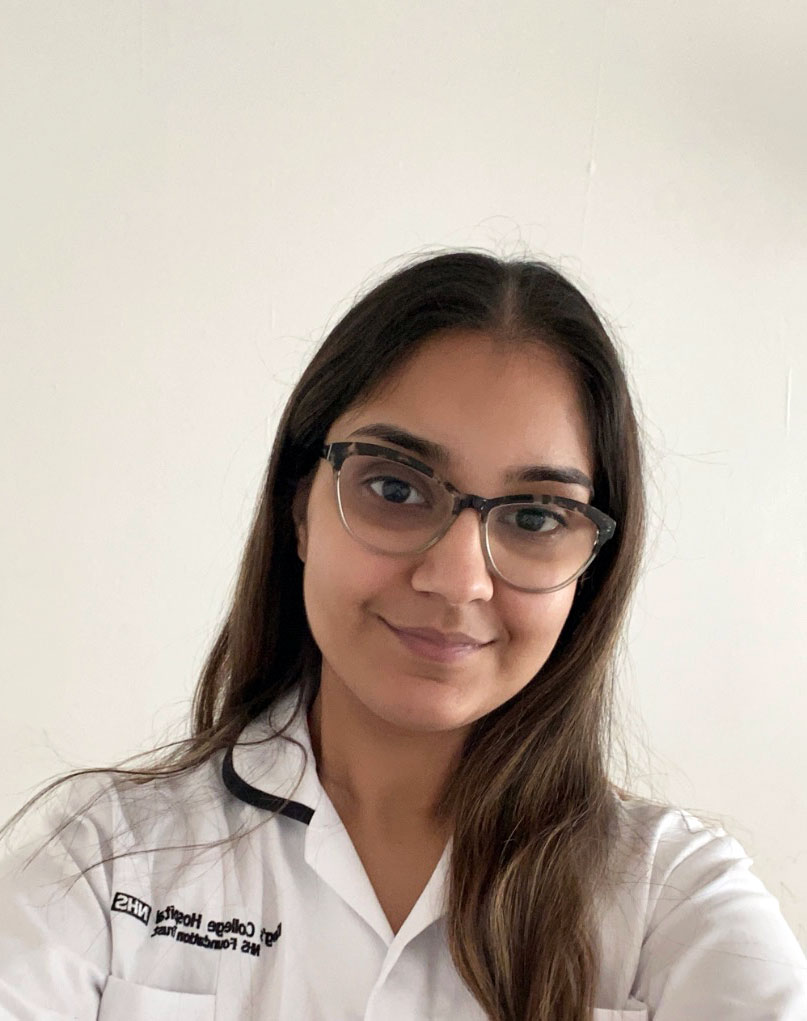 I left school at eighteen, not knowing which career path to take. All I knew was that I wanted to go into a field that involved working with people. I took a receptionist job at a local dental practice, and it was then that I realised I wanted to pursue a career in dentistry. I enjoyed the patient interaction and seeing how dentistry can have a huge impact on people's lives. After a couple of years of working on reception, I was given the opportunity to begin a dental nursing course and take a more hands-on approach.
I qualified as a dental nurse in 2015 and worked alongside a range of dentists, carrying out both NHS and private work. I even had the opportunity to nurse with specialists in the fields of endodontics and periodontics. As a nurse, I was able to follow each patient's journey from dentist to hygienist/therapist and see first-hand how access to these services can have a positive effect on a patient's oral health. It was my dream to eventually be sitting in the clinician's chair, treating patients. I enjoyed discussing patient treatment plans with the clinician, asking questions about why certain decisions were made. This is what inspired me to further my career in dentistry and look into dental hygiene and therapy courses.
I left school with no A-Levels and always thought the possibility of being accepted onto a course was slim. A friend mentioned to me that she had come across the Diploma in Dental Hygiene and Therapy at King's College, which was due to start in January 2019. She pushed me to apply. I was lucky enough to be invited for an interview in September 2018. I remember feeling sick on my way there, thinking about how there would be so many other interviewees with a better academic record than me. Surprisingly, once I entered the interview room I felt at ease. The panel members were extremely welcoming, and the whole process was not half as scary as I had imagined. I found out later in the month that I had been offered a place on the course. I remember having to read the offer over and over before it completely sunk in – I couldn't believe it.
I had been working in the same dental practice for almost seven years, and it wasn't easy handing in my notice. I was fortunate enough to be changed over to a zero-hours contract, so I had the option of returning for some occasional dental nursing.
The course began in January 2019, and going from full-time work into full-time education was a big change. The course is intense at times in terms of its deadlines, exams and general workload, but the rewards are huge. The opportunity to sit in the clinician's chair and treat patients is what pushes me to keep going; I am due to qualify later this year. I have been back to my practice to nurse several times since starting university, and I enjoy it more than ever. As well as catching up with colleagues, I get to interact with familiar patients. I now appreciate even more the amount of work nurses do to support clinicians.
To any dental nurses thinking of taking the leap and leaving work to further their careers and study, I would say 'go for it!'. Take time to research entry requirements, but more importantly, make sure you radiate your passion to progress. A lot of people may look good on paper, but it is how you come across in real life that truly matters. It is a hard journey, and there have been many times I have wanted to run back to the comfort of dental nursing – but it is during the hard times that I remind myself of why I am doing it and the future rewards. If you can dream it, you can do it!
Written by – Prabjot Mann, RDN