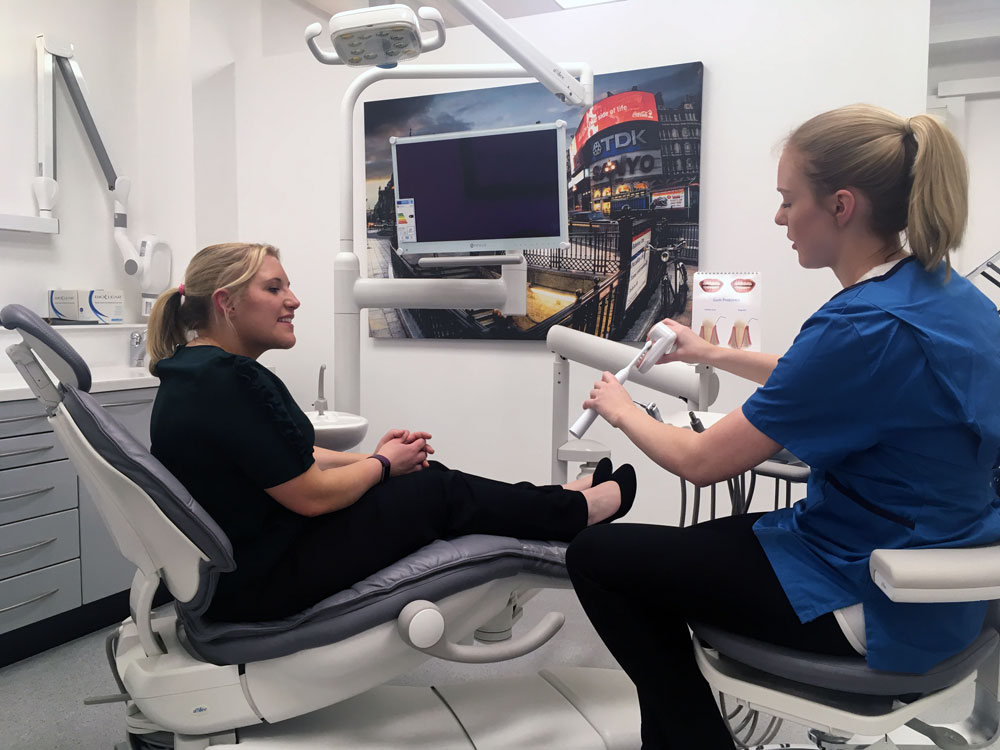 A career in dentistry was never something that crossed my mind during school or college – in fact, while I was growing up I had no idea what I wanted to do. At the age of eighteen, I found myself desperate for a job and was lucky enough to be offered a position as a trainee dental nurse in a local NHS practice.
I liked the idea of doing something medical, but I didn't have a very strong stomach, so dentistry seemed like the safest option. I got stuck into the job straight away and began my dental nursing course, studying one evening a week. I really enjoyed working whilst learning the anatomy and theory side of things at the same time. The practice was incredibly busy, and I would often be on my feet for over eight hours a day, but in hindsight I am glad that I was thrown in at the deep end early on, as it gave me a strong work ethic from a very young age. I worked with a really supportive team and loved all aspects of dental nursing – except for anything involving blood. I have always had a massive fear of blood!
Not long into my time as a dental nurse, I began thinking about the possible routes of progression for the future. My practice manager spoke to me about the role of dental hygienist, and I knew immediately that this was what I wanted to aim for. After I had gained my qualification as a dental nurse, I applied to university straight away. I was told by many people that it was a very hard course to get on to, and that I was unlikely to get a place first time. I understood this but thought that the experience of applying and possibly even being interviewed would be valuable, regardless of the outcome. To my surprise I was lucky enough to be invited for an interview at the University of Essex. The interview process was daunting; I had very little experience as a dental nurse and had not had the chance to undertake any post-qualification training, unlike many of the other applicants. On top of that, I had an agonising six-month wait ahead of me to find out whether I would get a place. I thought it would be best to try and put this to the back of my mind and try again next year.
I was so certain that my application for university would be rejected that I decided to take a new job as an orthodontic nurse in a specialist NHS orthodontic practice to try something new. This was a great experience, as it showed me a completely different side to dentistry. The patients were all children and teenagers, which could be challenging at times, and it was a very fast-paced environment with little spare time to run late. The more experienced nurses were able to take impressions, photographs and radiographs and to give oral hygiene instructions, and there was the chance to undertake an orthodontic nursing qualification, all of which gave me plenty to work towards.
After six months in the job, I was contacted by the University of Essex. To my surprise, I was offered a place on the hygiene course, starting in September of that year. After the shock wore off, I was absolutely delighted! I would be the first person in my family to go to university and it would be to train for a job that I knew I wanted to do.
The course was tough, with a normal week including two days of lectures, two days working in a placement, and one study day. Luckily, I could stay at home, as the university was just over an hour away from where I lived, although the placements could be located anywhere in the county. I enjoyed every minute of the course, especially the practical element of treating patients in placement. In our first year, we were each teamed up with a student in their second year, which was a great way to gain some mentorship and learn. We would then pass on the favour when we became second-years ourselves. There was a huge amount of theory to learn, so study days and weekends were spent revising hard for the exams and working on assignments. I came very close to losing my place on the course after a fall left me with a fractured elbow, which affected my dominant hand. However, I managed to recover enough over the two-week summer holidays to return and continue where I left off.
Graduating from university with an FdSc in Oral Health Science was a very proud moment for me; I never expected to attend university at all, so it was a huge personal achievement. After graduating, I filled my weeks with work in a mixture of NHS and private dental practices. This gave me a wide range of experience of working with lots of different teams and patients. It also allowed me to learn more about how I work best in practice.
After a year of working as a hygienist, I came across an opportunity to teach dental nurses part-time with Dental Nurse Network. I was interested, but I knew I needed a teaching qualification before I could apply. This prompted me to complete my Level 3 in Education and Training over a period of six months. Whilst completing this, I was able to write some articles for Dental Nurse Network. The first described my own personal journey from dental nurse to hygienist, and I went on to cover other topics to help provide nurses with CPD. I really enjoyed doing this and discovered that I had an interest in writing.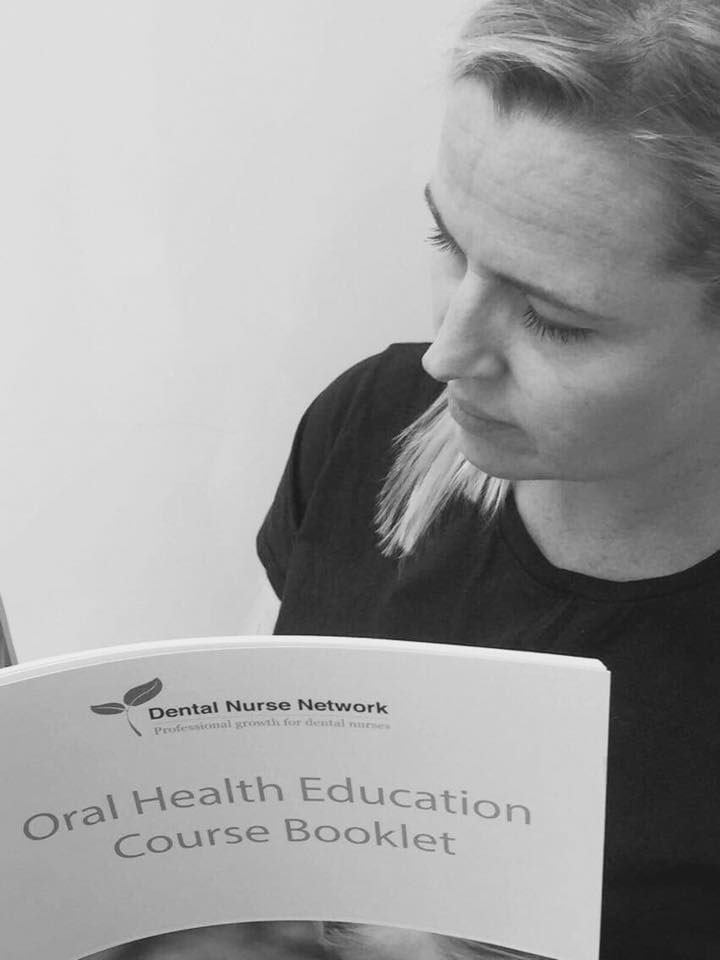 After completing my teaching qualification, I was fortunate enough to be asked to help put together an oral health education course for Dental Nurse Network. I knew this was something I would be able to do, as educating patients on their oral health was a real passion of mine. After a few months of putting the course materials together – including the tutorials, quizzes, a course booklet and a mock exam – the course was ready to go. Oral health education is a tough qualification to complete, with coursework including a case study and exhibition and a 90-minute multiple choice exam paper. I was keen to be involved, as I know the huge benefits that an oral health educator can bring to a practice, as well as the career opportunities it can open for dental nurses. The course has now been running since 2017, and over 93% of the September 2019 cohort passed the course, which is an amazing result! I look forward to seeing how this course can develop in the future as I continue my role as head tutor for the course.
After this, I found I still wanted to develop further. I found a master's degree in dental professional practice offered by the University of Kent. This course was assignment-based rather than involving the stress of regular exams, which suited me well. The assignments were centred around my own professional practice, which made them much more interesting – they helped to develop me as a dental professional by teaching me skills such as clinical audit, evidence-based research, and how to conduct my own research project within my workplace. The master's degree was a three-year programme, with classroom teaching on several weekends spread out throughout the year, allowing me to continue to work full time. I was in a class with a dental nurse and a dental hygienist, but we also mixed with dentists, GPs and teachers for certain modules. I graduated in 2019 and was fortunate enough to win an award for my research project, which had explored the views of dental hygienists and therapists on direct access.
Alongside my studies, I was ready for a new challenge in my career. I enjoyed being a hygienist, but I missed being part of a team and I missed interacting with lots of different people. As a hygienist you certainly get to interact a lot with patients, but it can be difficult to have a conversation with someone when you are treating them in the dental chair! I found a role within my local community dental services team which involved managing oral health promotion for my local county. This was perfect for me, as it was a part-time role, which meant I could continue as a hygienist for part of the week. Much of my time was spent providing oral health training to special needs groups, health visitors, care home staff and children's centre staff. This was hugely rewarding, and it opened my eyes to just how little is known about how to look after the oral health of the most vulnerable groups in our society. I loved being out of the surgery and speaking to lots of different groups of people. This role also helped me with my presentation skills and public speaking, which is always daunting to begin with. Whilst I missed the clinical element of working in a dental surgery, I really enjoyed the flexibility of managing my own diary and working on several projects at once.
After a year within the community dental services team, an opportunity to become part of a small team of professional educators with Philips Oral Healthcare came up. The role was brand new, so it was difficult to know what to expect. For me, this seemed like the perfect role to move on to as I could utilise my new presentation and public speaking skills whilst remaining within the dental industry. Whilst I was sad to leave my community role, I was also incredibly excited to start a new venture with such a large, global company.
I now spend much of my week travelling to dental practices within my territory and speaking with other dental professionals. I also attend dental shows and events, and there are opportunities to speak at some of these events. I am now almost a year into the role and am loving every minute of it – we are still evolving as a team and have lots of exciting things to look forward to in the months ahead. So far i have been lucky enough to attend events in London, Birmingham, Scotland and Ireland which makes a big change from spending every day in a dental surgery. I remain at one dental practice as a hygienist on Thursdays, and I alternate between three dental practices on Saturday mornings. This means plenty of variety in my working week and has reignited my passion for the job, as I can focus all my time and attention on a smaller group of patients.
In the near future I plan to start a Postgraduate Certificate in Education at the University of Essex, I would also love to have the findings of my master's degree research published in the hope that it may contribute in some way to some improvements in the current situation around direct access to dental care professionals. I also look forward to developing the skills I enjoy the most as a hygienist further by carrying out more cosmetic treatments such as teeth whitening and air polishing. I am also excited to see how my role with Philips can develop and look forward to interacting more with other dental professionals, attending more events related to dentistry, and meeting more likeminded people. If I could give any advice to anyone wishing to try something new or develop further in their field, it would be to remain open to opportunities, as they often lead to unexpected but positive things. Most importantly, I would advise you not to let a lack of confidence or experience stop you from trying something new.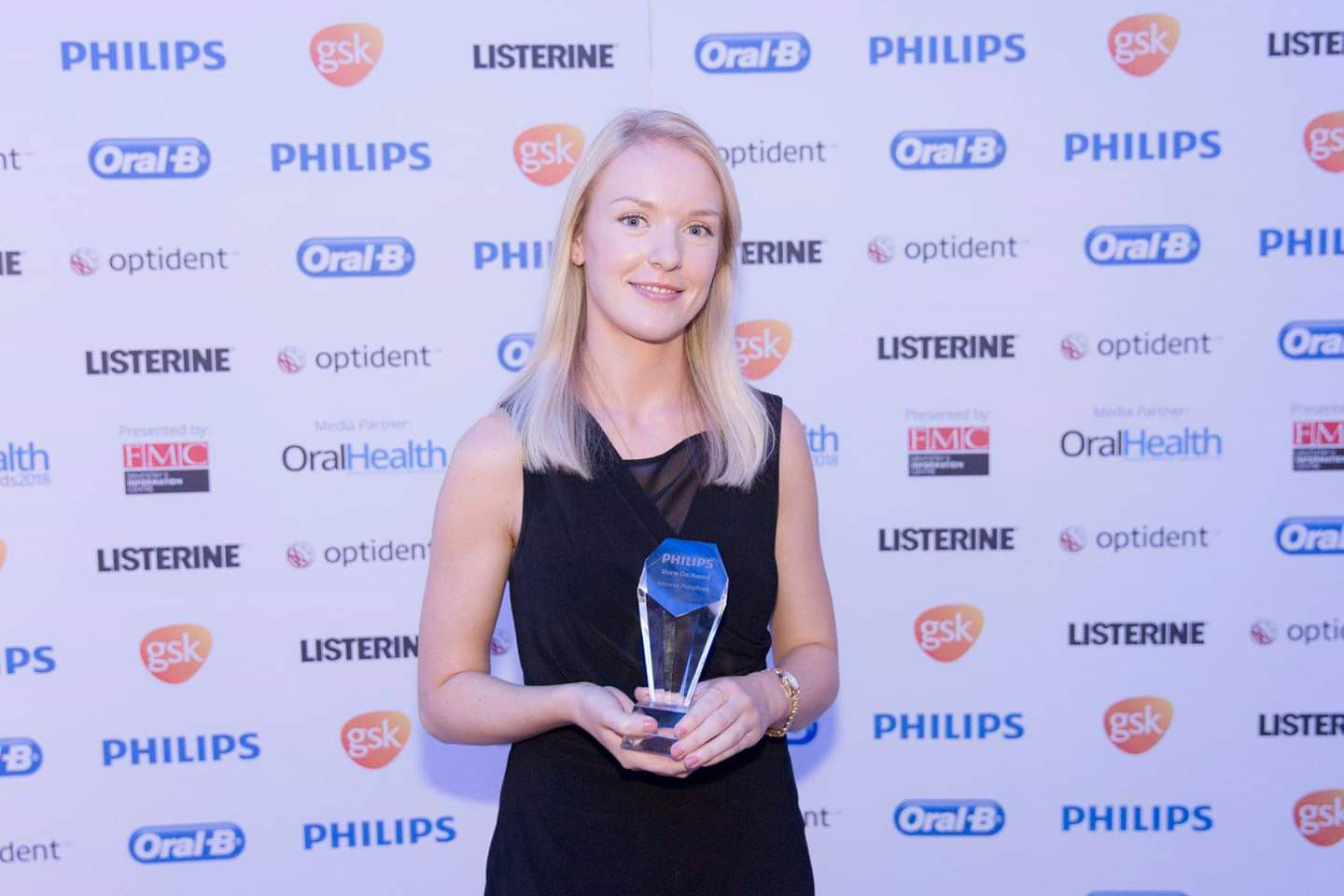 Melanie Pomphrett MSc, Fdsc, RDH, PTLLS