When you started out on your path to becoming a dental care professional, the matter of indemnity insurance will have arisen. Along with your initial registration with the GDC, this is something that is an integral part of belonging to a professional body.
The concept of needing indemnity insurance for your chosen career may seem a daunting prospect. It seems obvious why dentists would need to have such protection in place, but for nurses, is it really essential? And how do you go about deciding which indemnity insurance is required? It would be nice to be able to presume that a situation will never arise whereby you have a claim made against you; after all, we aim to always work to a strict professional standard - but we are just as vulnerable as those we work for.
We live in a world where people are increasingly aware of their rights, and are not afraid to seek compensation if they feel they have suffered any harm or wrongdoing. In terms of dentistry, this can be anything from physical discomfort during treatment, to the mis-selling of treatment plans, to inappropriate language or behaviour in a surgery setting. Many people are now armed with a wealth of information about their 'rights' and what action they are entitled to take, and advice is freely obtainable through a quick internet search or a short phone call.
As a dental nurse it is imperative that you have indemnity insurance in place to protect both yourself and your patients throughout your working career. Holding an indemnity policy has been a requirement of GDC registration for many years now, and is set out in the 'Standards for the Dental Team' booklet, which must be adhered to by all dental professionals:
"Make sure your patients are able to claim any compensation they may be entitled to by making sure you are protected against claims at all times including past periods of practice" (Standards for the Dental Team 2013, Standard 1.6 www.gdc-uk.org ).
From summer 2015, the GDC have changed their requirements so that all dentists and dental care professionals must inform them of the indemnity policy they have in place before they either join or renew their professional registration. This means that no one will be able to work without being fully covered, thus ensuring that everyone who is practising is protected at all times.
Some of you may be lucky enough to be covered under the indemnity of your employer (the details of which you will still be expected to pass across to the GDC) but for those of us who need to obtain our own policies, what are the options out there?
It is advisable to ask your fellow nurses who they are insured under, as you can get an understanding as to what options are available, and whether they will cover your needs. For example, an 'extended duties' dental nurse may need a more comprehensive insurance policy than a general dental nurse, and a dental nurse who only works part-time hours can, under some policies, pay a reduced rate. Student or retired nurses, or those currently on maternity leave can in some cases become an associate member of certain associations at a small cost per year.
When I spoke to a group of dental nurses from Surrey about their experiences with indemnity providers, only one had ever had to call them for advice, and was unfortunately unhappy with her experience. She stated that "When I called for advice about a dispute at my previous place of work they were not very helpful at all, they simply suggested I call Citizen's Advice". It is important to choose a company who will offer you access to their legal advice team so that you are immediately given information about the best course of action should a situation arise. It can be easy to just choose the company offering the cheapest quotation, but they may not be the most suitable for you, and when it comes to needing support, may not offer the assistance you need.
Below is a table outlining a few examples of available providers of indemnity for dental nurses, their prices and a comparison of the benefits they offer at the time this article was written. Please note that these may change at any time, and you should refer to up-to-date information from the companies themselves – this table is indicative only and should not be relied upon.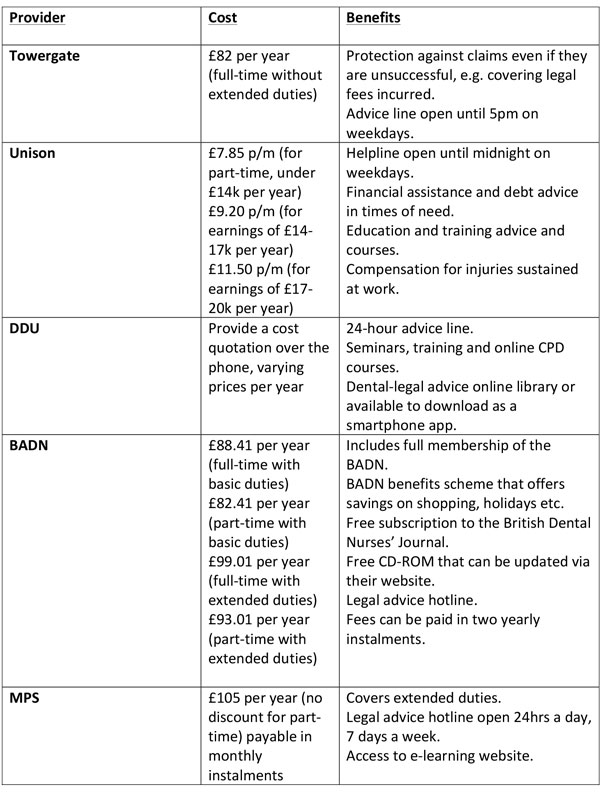 There are many other available providers and it is worth spending the time researching your options before you make a decision, as a reliable provider is integral within your career as a dental nurse. It can often be beneficial to call the providers and ask further questions you have about the services they offer, as choosing the right indemnity for your individual circumstances will provide you and your employer with peace of mind in your working life.
Author: A Shipman BA, RDN