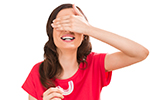 What is an Orthodontic TCO?
An Orthodontic TCO (or Treatment Coordinator) is similar to a Treatment Coordinator working in any field of dentistry. However, the term "Orthodontic Treatment Coordination" refers to any GDC-registered dental nurse who either works in an orthodontic practice or works in a practice that offers GDP orthodontic systems (such as six-month braces, six-month smiles, Invisalign, Inman Aligner etc.
The Orthodontic TCO can initially be involved with the patient experience in three different ways:
1. Child consultation
2. Adult free consultation
3. Adult initial consultation (where the patient will see the dentist on the same day).
Each of these consultations is different, and an Orthodontic TCO needs to know how to deliver each type successfully.
Many Orthodontic TCOs only talk to the patient at the end of an assessment - the missing part is the initial stages and providing consultations.
The mistakes you may be making
MISTAKE 1
TCOS WHO HAVE NOT BEEN TRAINED OFTEN RECOMMEND TREATMENT TO PATIENTS
This happens frequently in free consultations and treatment presentations and is clearly illegal! If they are not shown and taught the correct verbal skills to use when communicating with patients, TCOs may put the practice's legal and ethical responsibilities on the line.
"I always state in presentations that TCOs cannot recommend treatment - but I always have at least one person brave enough to ask me, and in the end they ask why they cannot as this is something they currently do!"
OR:
I am often contacted by orthodontic TCOs who tend to ask me the same question: "Laura, why can't I recommend a system in a free consultation?"
My answer is always the same - the only person who can recommend a system / treatment is the orthodontist once they have assessed the patient. No TCO should ever be recommending treatment.
MISTAKE 2
THE TEAM DON'T UNDERSTAND THE ROLE AND HOW IT WORKS, LET ALONE THE BENEFITS IT BRINGS THE PATIENTS, THE TEAM AND THE DENTISTS
Reason this can cause animosity between team members:
1.
The TCO is treading on their toes.
2.
They are now being "bossed around" by someone other than the principal or manager.
3.
They don't go directly to the TCO when the patient calls or has a question and this jeopardises the patient experience.
4.
The dentists have resistance to using the TCO
as they think they will be judged.
5.
Or they don't want to admit that someone in the team is better at communicating then them.
6.
Or the just don't want to let go - they need to be in control, because after all they don't understand what they are letting the TCO do and if this will affect them legally!
MISTAKE 3
THERE IS NO STRUCTURE AND THE TCO HAS NO DIARY - THEREFORE THEY ARE UNDER UTILIZED OR STRESSED OUT!
The TCO must have a diary in the software so they and the team can see where to book patients. Patients are offered appointments in the same way they are with a dentist - they can't just turn up! If they are not booked then the systems and customer service fall down and you wont get the desired result.
MISTAKE 4
NO SYSTEMS FOR COMMUNICATION = A POOR PATIENT EXPERIENCE
The TCO must have systems in place to communicate with the dentists at all times. Examples of this are before the patients first exam and before the treatment is presented.
Using the first exam example, if the TCO has not communicated why the patient is booked in then you run the risk that the patient is repeating themselves as the dentist will be asking the same questions again - this makes the TCO and dentist look unprofessional!
MISTAKE 5
INABILITY TO LISTEN
People buy from people they like, how do you build relationships? Not by talking but by listening!
TCOs that aren't trained cannot build relationships with patients and this is what the role is all about! Sometimes Laura is told "Hey Laura, I have a great TCO she can talk for the country!" Laura replies "That's great - but can she listen".
Listening however is a skill and can be taught - this is why training is essential!
MISTAKE 6
NOT USING YOUR TCO FOR COMPLIMENTARY CONSULTATIONS FOR NEW PATIENTS, NEW CHILD PATIENTS AND THOSE WHO BOOK DIRECTLY INTO SEE A DENTIST
One of the key aspects of the TCO role is being able to give time to the patient for free! Time that doesn't cost the dentists any money! Dentists shouldn't be doing free appointments as it devalues their skillset instantly.
Failure to market this service to new and existing patients is costing you so much money you wouldn't believe! Free consultations alone (with a trained TCO) can increase your turnover by an average of 30% per month!
Orthodontic's isn't a cheap treatment and consultations with patients wanting this treatment need to be delivered to an extremely high level.
The verbal skills that you use need to be outstanding while at the same time you need to ensure that you are not recommending a system or unethically describing one.
MISTAKE 7
ONE TRAINED TCO PER PRACTICE PUTS EVERYONE AT RISK - THE TCO THE PATIENTS, THE DENTISTS AND THE BUSINESS
What happens when your TCO has a holiday? Not such a worry in North America but in the UK the team get 4-5 weeks paid holiday a year plus bank holidays!
What happens when they leave or are unwell?
You need to put the best interests of the patients (the people who pay your mortgage every month) at heart and protect them from unexpected events such as illness. Each practice must have a back up who can jump in at a moments notice and support the business and main TCO!
What's the cost of losing a patient because you have to cancel them due to illness? Trust me if it's a free consultation they wont be coming back!
"To ensure you don't make any of these mistakes when using a TCO be sure to invest in training for your business and team.
This shows the team you support them and puts solid systems in place for the business that will be paramount to its success!"
If you thinking of or have already booked onto the orthodontic treatment coordination day this month the pure focus that day will be orthodontic systems.
This will help all delegates to understand and have the skills to focus on this one key area when talking to patients.