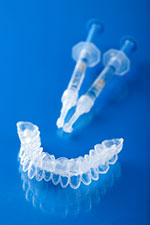 The GDC has joined forces with Groupon to try and prevent illegal tooth whitening. Groupon the 'daily deals' company and the GDC have agreed to embark on a promotion to stop illegal tooth whitening being advertised on the Groupon website.
The GDC have made a statement reminding dental care professionals and the general public that tooth whitening is legally the practice of dentistry.The Dentists Act 1984, sections 37 and 38 declares that 'dentistry can only legally be undertaken by individuals who are regulated by the GDC.' Hygienists or therapists can also conduct whitening treatment if they work under a dentist's prescription.
The High Court confirmed this regulation. In May 2013, the Magistrates' Court's questioned an individual for the offence of practising illegal dentistry. The individual unlawfully carried out the business of dentistry, specifically tooth whitening whilst not being regulated or registered with the GDC. The individual in question was convicted of the offence and Westminster Magistrates' Court are in the process of considering sentencing.
The top deal offering website Groupon, has already attempted to take action against illegal tooth whitening deals. They are aware that there are many issues with individuals claiming to be GDC regulates when they are not. There are several companies which supply tooth whitening procedures who believe that as they are covered by the European Council Directive on Cosmetic Products their agents are able to carry out cosmetic treatment and this is not actually practising dentistry. This is inaccurate and a false interpretation of the law. Regulations also state that tooth whitening products which contain or release 0.1% to 6% of hydrogen peroxide are not allowed to be made directly available to consumers. Only a registered dentist can carry out this treatment or a hygienist or therapist working to a dentist's prescription. It is a criminal offence to breach these regulations.

For dental professionals registered with the GDC, who do offer tooth whitening deals and other dental treatments through Groupon or other similar services need to make sure they assess patients, obtain appropriate consent, obtain medical history and explain all available options before beginning any treatment.

The GDC are hoping that their new relationship with Groupon will help develop further relationships with similar companies.