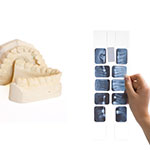 The body of a woman was discovered by a cyclist on Corstorphine Hill in Edinburgh in early June. An investigation was immediately launched by Scottish police into the murder. The cyclist came across the woman's body on the 6th June, whilst cycling through the area. Edinburgh police are now seeking dentists to help with the identification of the body. So far, the woman has been described as white, between 32 and 60 years old and 5ft 2 in height. The victim has also been reported to have expensive cosmetic veneers on her teeth and was wearing four distinctive rings which include an Irish Claddag ring.
Dental trade publications have been issued with details of the woman's dental work. This has been done with the aim to bring dentists on board to help with the identification process. Keith Hardie of Police Scotland declared, 'Since this woman's body was found we have had an excellent response from the public, but we are still awaiting that crucial piece of information which will help us identify her.' Hardie explained that the major outcome so far, in identifying the woman, has been the realisation that the woman has had extensive, cosmetic dental work. The police have been working with the Edinburgh Dental Institute to understand and gain information about implants and veneers.
The woman's specific veneer information has been shared through dental trade publications with the hope that dental professionals might be able to recognise details of the work. Hardie expressed, 'I remain confident that, with the help of the public and expert advice, we will find out who this woman is and find those responsible for her murder.'

Forensic Dentistry
Forensic dentistry involves the application and evaluation of dental knowledge to criminal and civil laws which are enforced by police departments in the criminal justice system. Forensic dentistry means that victims can be identified by their teeth. Forensic dentists investigate human remains to help establish age, race, occupation and dental history. This identification process encompasses comparing ante mortem (prior to death) and post mortem (post death) dental records. Dental radiographs determine unique features which cannot be seen by the human eye. The examinations and evaluations which are carried out by forensic dentists stand as dental evidence which can be presented in the interest of justice. Forensic dentists are responsible for the following main areas of practice: identification of human remains and mass fatalities, assessments of bite mark injuries and cases of abuse, age estimation and civil cases involving malpractice (negligence of a professional). Dental nurses have the opportunity to assist with this kind of work. Dental nurses can train to work in forensic dental nursing. For more information please visit The British Association for Forensic Odontology or Forensic Dentistry Online.