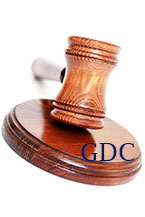 The High Court has confirmed that tooth whitening is the practice of dentistry. The GDC has warmly welcomed this decision. The GDC believe that tooth whitening should only be undertaken by regulated dental professionals. The High Court's verdict now backs this. This ruling came into question when an individual was being charged with offences regarding the practice of dentistry and unlawfully continuing the business of dentistry having not been regulated by the GDC.
The decision was made on 10th May, when the individual in questions was convicted with two offences. The case will now be remitted to Westminster Magistrates' Court to issue sentencing. The GDC alleged that the individual had unlawfully practised dentistry, specifically tooth whitening, whilst not being regulated to do so. They also alleged that the individual continued the business of dentistry when not permitted to do so.
The Dentists Act 1984 states that it is a criminal offence to carry out dentistry if you are not a registered dental professional. Registration with the GDC is a legal requirement for clinical dental technicians, hygienists, therapists, dentals nurses and orthodontic therapists.
The GDC maintains that patient safety comes first; they are committed to protecting the public. This means that any cases of illegal practice must be brought to court.
Now it has been confirmed that tooth whitening is the practice of dentistry in the eyes of the High Court, this means that only individuals who are regulated by the GDC and are dentists, dental hygienists or dental therapists working under the prescription of a dentist can perform tooth whitening treatment.