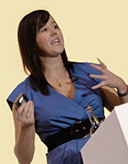 Laura Horton Treatment Coordinator London Course: Knowledge, laughs, prizes and inspiration all in a day's work!
Laura Horton's Treatment Coordinator Workshop is an interactive and exciting yet relaxed learning environment. Often people are scared to ask questions, people are afraid to look stupid but not here. On Friday 8th February, dental nurses and other dental professionals gathered at Henry Schein in Marble Arch, London to take part in the day's events. Hands were up in the air every few minutes with inquisitive and excited members in the class.
Delegates were constantly getting involved and interacting with one another, with a thirst to learn more and to really get to grips with all of Laura's knowledge and ideas.
Everyone eagerly scribbled notes, we even had to give up more paper! There were no awkward silences here, Laura has a great energy and keeps a constant flow. Members were motivated but there was no pressure to get involved.
Laura used her own experiences and stories and related them to the members of the course. She has many memorable and simple ways of remembering important facts and ideas for example, 'Feel, felt and found' or '3 days, 3 weeks and 3 months.' Laura focuses on the patients, how they feel and puts emphasis on the importance of empathy in practices.
The day consisted of Laura's lectures with breaks into between for plates of cakes, sandwiches and cute little cups with pictures of teeth. Pens and paper were both provided as well. Laura revealed an honest and engaging approach to life in practices. She put a focus on thinking about patient perspective.
'I saw an advert for a virtual Treatment Coordinator. You cannot get a virtual Treatment Coordinator,' Laura said.
Laura gave laid back but valuable, solid and proven advice. She is incredibly passionate, focused and determined. She believes in confidence and a belief in your morals as a practice. Laura inspires dental nurses to consider their scope of practice and the potential it has.
The day ended with prizes giving. The prizes went to Lidia Jasinska for joining Twitter on the day for the first time to Tweet about the course and the second Carla Edwards for being truly inspired. They went home with some bubbly and other treats.
Many of the members commented that Laura offered an inside guide to how it really works developing the position of a treatment coordinator.
'She developed the position, so who else would know more?' said one member.
'She is down to earth, frank and truly empowering!' said another.
A few words with Laura...
Laura, if you could sum up your course in three words what would they be?
Inspirational, motivational and fun.
What would you say is your approach?
I'm just me. I say it how it is. I am down to earth, black and white, not fluffy! I don't fill everyone with theory and leave them to go away and think about it. I show you how it works and what you should do. I present the system so people can be successful as possible, as quickly as possible.
Do you enjoy leading these courses?
I like to see team members breaking into new areas and developing their careers. It is great to be part of that. A TCO is amazing role, it is so good for practices but also for the individual as well. I lIke to give people the best start and open their eyes to the possibilities they have.
What was the best part of today?
I would say in general, helping people to critique others and giving the team the verbal skills to help them prove their skills.
So, whats new with you?
Well, my team and I have develop the BETEC qualification which is launching in March and currently being piloted. My team of business consultants are all really busy working on their market business development as well. There is also a big surprise announcement which I will be making on March 1st.
Any advice for dental nurses considering the TCO position?
You will get a deeper level of job satisfaction due to the nature of the role. It is a relationship role. If you are a people person this is the best job for you to be found in dentistry.
Written by Sophie Kalinauckas