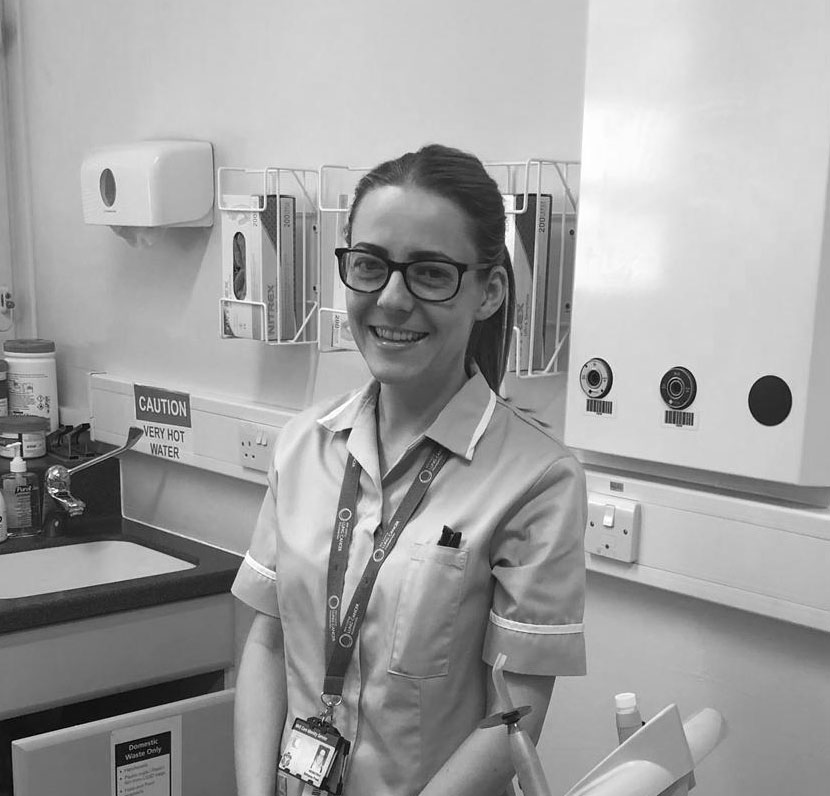 Like a lot of people who spent a large chunk of their teenage years coming up with elaborate ways to avoid having to reveal that they were wearing a brace, I developed a longstanding, and dare I say profound, interest in orthodontics.
Although I didn't realise it at the time, the day that my treatment officially ended was in fact only the beginning of a journey that I am still on to this day; two years after saying goodbye to fixed braces, I said hello to a career in dental nursing. Once I started the NVQ Level 3 in Dental Nursing, it didn't take long before I came to the conclusion that orthodontics was the field for me. I was delighted to secure a permanent position within the children's and orthodontics clinics at the Royal Liverpool Dental Hospital, some eighteen months after I had graduated from the same organisation as a Registered Dental Nurse (RDN).
During my first few years as a full-time dental nurse, I was too preoccupied with getting to grips with the day-to-day rigours of learning orthodontic and paediatric dentistry to think about my next step. I took some hospital-run courses on things like rubber dam application, and I attended several training days with The Orthodontic National Group for orthodontic nurses, but I never actually started my first post-registration qualification until six years after I'd finished training to become an RDN. Once I was certain that I was ready to progress further in my career, I decided to look into qualifications in oral health education, as I felt that this would be beneficial to both of the clinics that I worked in. Due to a lack of funding, however, opportunities at my place of work were few and far between – sadly, even the entry-level dental nursing course was no longer taught there – but, undeterred, I simply sought out training elsewhere.
After a bit of digging around online, I managed to find a company who offered a post-registration qualification in oral health education, as well as qualifications in plaque indices and fluoride application. Starting the course was quite nerve-racking, since I hadn't studied properly in what seemed like a very long time, and I was worried that I wouldn't be able to cope. Once I got into it, though, I began to feel happy and confident in myself again, finding that I had got so used to doing the same thing day in, day out that it now felt refreshing to change my routine and take on a new challenge. As the course progressed, I was asked if I wanted to be a part of a national research project investigating oral health and paediatric patients. Knowing that this would not only help with my post-registration qualifications but would also provide me with an additional research qualification (which the hospital would pay for), I jumped at the opportunity.
Having completed the OHE course and passed both the written exam and viva, I realised that I didn't want to stop learning. It wasn't long afterwards that I enrolled on the Dental Nurse Network's impression-taking course. I really enjoyed the more personal, hands-on nature of impression-taking. I knew, however, that ultimately I still wanted to complete a post-registration qualification in orthodontics. This meant that I had to keep pushing and keep on learning. I looked for study opportunities at other hospitals, and eventually arranged to attend an external orthodontics course on a day-release basis, which I passed in 2017.
As time went by, the more qualifications and certificates I completed, the more I found that new opportunities were presenting themselves. I successfully set up a nurse-led records clinic, taking photographs and impressions for patients who were scheduled to undergo orthodontic treatment. This clinic turned out to be a big step for the hospital, as we noticed that our waiting lists for new patient records were soon dramatically reduced. I was asked to complete an audit on the project and present my findings as an infographic poster at the British Society for Paediatric Dentistry Conference in September 2017. This was another great opportunity to develop new skills – auditing and public speaking – and I loved attending the conference. I was also asked to assist in teaching on the DCP photography course that the hospital had started running.
All of these small opportunities were preparing me for one amazing opportunity that has recently arisen: a chance to train as an orthodontic therapist. I first looked into the course requirements a few years ago, and it was this that prompted me to start gaining more knowledge and experience in the first place. When the announcement was made that a current nurse would be given the chance to train as a therapist at the hospital and complete the theory side at Manchester Dental Hospital – something that Liverpool Dental Hospital had long been wanting to offer, only for funding and logistics issues to cause multiple delays – I began to believe that all of my hard work and determination was about to pay off in a way that I could have only dreamed of when I began training as an RDN.
I had two interviews, one in Liverpool and one in Manchester, after which I was offered the position in Liverpool and a place on the course in Manchester, ahead of starting my new role in June. I would be lying if I said I wasn't nervous. I am, but I'm also extremely excited, as I know that without pushing myself over the last four years, I wouldn't have been so perfectly placed to secure this incredible opportunity. Now that I'm on the verge of taking the biggest step yet on my career path, my advice for any nurses wanting to further their careers would be to go online and search for the specialisms that you're interested in. These days, many courses are available online, allowing nurses to study at their convenience, and there may also be training centres providing day release classes that are closer than you'd think.

If there's one thing I've learned above all else, it's to say yes to any opportunity that's being offered, even if you're not certain that it's definitely something that you want to do or can do. You never know what doors it could open in the future, and you may also surprise yourself and end up really enjoying it. Plus, there's no such thing as having too many qualifications. Always be looking for ways to develop yourself. It may be something as small as completing a CPD session, or it may not even be directly related to dentistry at all. For example, I have completed two NVQs that helped me with additional communication and administration tasks at work, both of which are transferable if for any reason I found myself looking for a job in a different sector. The internet is an amazing tool, and there are so many more opportunities available to dental nurses than most seem to realise – you just have to seek them out. Dentistry is evolving all the time, and it's important that we evolve with it.
Written by Beth Powe