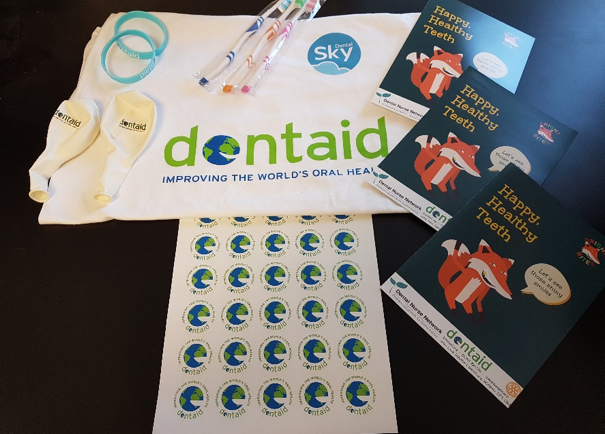 Last month, I was given the privilege of getting involved in Dentaid's Bright Bites programme for the first time. I was able to offer fifty-six children at my local primary school, Wistaston Academy, forty minutes of my time.
I explained the importance of tooth-brushing and having a well-balanced diet, and we discussed the hidden sugars that they are regularly consuming in their favourite foods. Dental Nurse Network sponsored me and Dentaid provided me with free gifts for the children, including toothbrushes, wrist bands, balloons, stickers and a leaflet about healthy teeth for all the children in Year 2. The programme also provided me with a t-shirt and some information slides to use in my presentation.
What is Bright Bites?
For those of you who have never heard of Bright Bites, it is a programme created in 2005 by the charity Dentaid to help tackle the increasing problem of tooth caries. Bright Bites representatives visit schools in the UK and overseas to promote better oral health. Their work is very inspiring, and support is always welcome.
How can you get involved in the programme?
Here at Dental Nurse Network, you can apply for sponsorship if you have completed the NEBDN Oral Health Education course with us. We are very passionate about supporting and getting involved in this programme – that's why we have already committed to sponsoring a minimum of 1000 children per year. We want to ensure we can all promote good oral health in our local communities, and this gives everyone the opportunity to get involved in the programme at least once a year.
However, if you have completed your qualification with a different provider, that's fine – you can just contact Dentaid directly and ask them about their Bright Bites programme. They may be able to sponsor you depending on available funds. https://www.dentaid.org/uk/bright-bites
How do I contact my local school or nursery?
The best way to contact your school or nursery is either to e-mail them (they normally have an e-mail address on their website) or to ring reception and explain to the receptionist who you are and that you would like to talk to the children about better oral health.
Final words
Finally, I just want to thank Dentaid and Dental Nurse Network for all their help and support in ensuring that my visit went well. I will look forward to hearing from other oral health educators who are getting involved and supporting this amazing charity. I hope they enjoy the experience as much as I did.
If you have any further questions about either the Bright Bites programme or the NEBDN Oral Health Education course –our next one is due to start in June 2018 – please e-mail me on This email address is being protected from spambots. You need JavaScript enabled to view it. and I will be happy to help you.