Next start date: 5 September 2022
249.00 inc. VAT
4 months
Distance Learning
Overview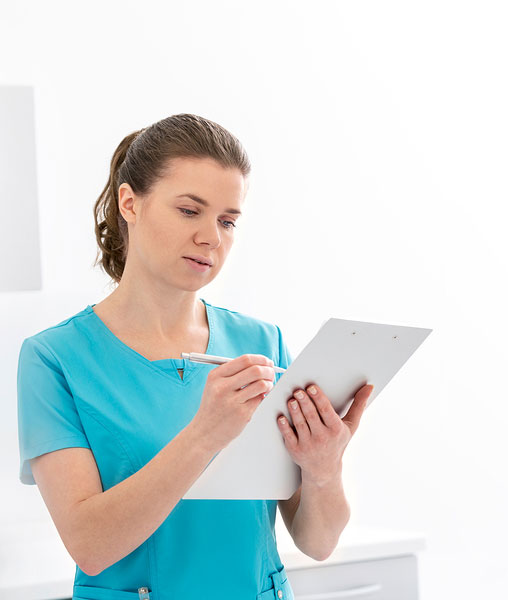 Course Overview
The aim of this course is to allow those with a Level 2 Certificate in Infection Prevention & Control (IPC) to further develop their knowledge and skills as an IPC Lead including CQC inspections, leadership and team training. Course Brochure
This course is an opportunity for you to further develop and maintain your skills and gain enhanced CPD as an IPC lead. Please note, it is not a CQC requirement that you are trained at Level 3 and the DNN Level 2 IPC Lead Certificate meets the required training as specified by the Code of Practice Health and Social Care Act 2008.
Entry Requirements
You must have already completed the DNN Level 2 IPC Lead Certificate.
Topics Covered
Leadership and Management in Dentistry
Introduction to CQC and Your Role as IPC Lead in Inspections
Reflective Learning and Identifying Training Needs in Practice
Team Training Skills
Setting Up a Compliant CSU
Audits
RIDDOR and COSHH Requirements
Management of Epidemics and Pandemics
Benefits
The major benefits of the course include:
Online tutorials;
Zoom classes;
Downloadable booklet;
Unlimited access to learning materials for 4 months;
Unlimited tutor support throughout the 4 months;
Tutors can be contacted Monday to Saturday, 8am to 8pm;
Flexible learning: complete at your leisure within 4 months;
Nationwide availability;
15 hours of verifiable CPD;
Level 3 Infection Prevention and Control Lead Certificate, awarded upon successful completion.
Structure and Objectives
Assessments
Assessment A: Complete an audit relating to IPC and implement an action plan
Assessment B: COSHH Risk Assessment: You will need to select a product that you use in practice and complete a COSHH Risk Assessment. You will need to include a copy of the Safety Data Sheet (SDS) if one is available.
Assessment C: Complete a reflective journal over the duration of the course to demonstrate students ability to learn from experiences and identify their own skills gaps.
---
Module 1: Developing the IPC Leadership Role
Unit 1: Leadership and Management in Dentistry
Understand the role the IPC Lead has in the leadership and management of the dental practice
Understand how to handle conflict relating to IPC in the dental practice
Unit 2: Introduction to CQC and Your Role as IPC Lead in Inspections
Know the history of CQC regulation in dentistry
Explain the Key Lines of Enquiry
Understand the evidence CQC inspectors will be looking for during inspections
Explain the role of the IPC Lead during an inspection
Be confident in preparing for CQC inspection
Unit 3: Reflective Learning and Identifying Training Needs in Practice
Be able to describe the importance of reflective learning
Be able to explain the Gibbs Reflective Cycle
Be able to demonstrate reflective practice and identify your own training needs
Know how to identify the training needs of individuals and the team
Unit 4: Team Training Skills
Understand different learning styles
Identify potential barriers and understand methods for overcoming them
Explain different methods for evaluating learners' understanding of training sessions
Be able to select appropriate evaluation methods
---
Module 2: IPC Lead
Unit 1: Setting Up a Compliant CSU
Understand the benefits of having a CSU in practice
Explain the flow of instruments and the appropriate layout for a CSU as outlined by HTM0105
Explain how you would select appropriate equipment for a CSU as outlined by HTM0105
Unit 2: Audits
Know the CQC requirements for audits in the dental practice
Explain the benefits of audits on managing the clinical environment
Know the steps for planning an audit
Be able to use the results of an audit to identify necessary improvements
Understand how to use audits to ensure changes in behaviours/practices are maintained
Unit 3: Creating Action Plans and Implementing Them
Be able to identify required improvements
Be able to explain the difference between improvement and implementation
Be able to create an action plan to help implement changes in practice
Understand how to share an action plan with the dental team
Unit 4: RIDDOR and COSHH Requirements
Be able to explain the RIDDOR and COSHH requirements of a dental practice
Explain how the IPC Lead can work to ensure compliance with RIDDOR and COSHH
Know how to carry out a Risk Assessment for COSHH
Unit 5: Management of Epidemics and Pandemics
Know the difference between an epidemic and a pandemic
Understand the importance of having contingency plans for business continuity in dentistry
Know where to get relevant information and guidance during a state of emergency
Understand what an SOP is and how to write one
Understand the importance of keeping your SOP up to date during a pandemic/epidemic
Tutors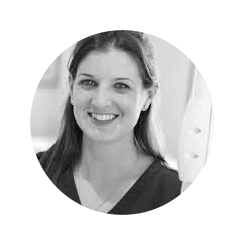 Stephanie Carter RDT, RDH
Registered Dental Hygienist and Therapist: 119601
Qualifications: Diploma Dental Hygiene and Therapy, National Certificate Dental Nursing, Level 5 Diploma in Education and Training, Level 4 National Certificate in Internal Quality Assurance, Level 3 Certificate in Assessing Vocational Achievement, NEBDN Certificate Dental Radiography, ILM Level 3 Award in Leadership and Management, Smoking Cessation Counselling Levels 1 and 2, Young Counsellors Certificate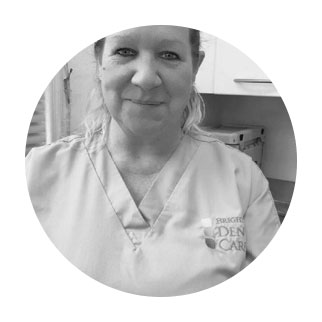 Hilary Urry RDN
Registered Dental Nurse: 139277
Qualifications: Foundation Degree in Advanced Dental Nursing (University of Kent), Certificate Dental Radiography (City University London), Level 3 Assessor, Level 3 Infection Control Trainer
Competency Training: Impression-Taking, Fluoride Varnish Application
DATES
Monday 5 September 2022 - Available
Monday 7 November 2022 - Available
Payment
Payment Plans
We now offer the option to pay over three months. Please be aware, this increases the fee to £264.00 inc. VAT.
Payment due dates:
5 September 2022 £88.00 (Non-refundable deposit)
5 October 2022 £88.00
5 November 2022 £88.00
We will NOT send reminders of payment due dates. Failure to make payment by the due dates will result in automatic removal from the course.
Please note, your certificate of competence will not be awarded until full payment is made.
Paying by payment plan? Please use enrolment form HERE.
Discounts
Please note that discounts are applied to the VAT-exclusive fee: £249.17 Discounts cannot be applied to payment plans.
Multiple applicant discounts
Two applicants: 5% discount
Three applicants: 10% discount
Four or more applicants: 15% discount
Multiple course discounts
Two courses: 5% discount
Three courses: 10% discount
Four or more courses: 15% discount
Please apply by telephone or use the application form here. DNN will send you an invoice.
ENROL
Please note, you should only request an invoice if your practice is paying for you, therefore requires an invoice.