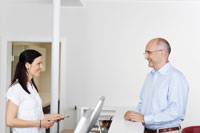 When you work on the front desk, you have a mad half-hour pretty much every hour! Isn't it typical that the moment you stop to gather your thoughts and confirm what you need to be doing, the practice owner walks past and therefore thinks you're having an easy day?!
The dental reception role tends to be a reactive role; you're constantly fighting fires, and you never know what the day is going to bring! On top of all the admin duties, you also have to provide an amazing new patient experience, convert patients on the telephone to appointments, and deal with the ever-growing queue at the front desk. Why is it that as soon as you start to tackle your to-do list, the phone rings off the hook, or you have a patient at the desk who is not happy with the fees or who takes a great deal of your time just to book two appointments?
I have always loved working on the front desk - that's because I'm a people person. I have always happily volunteered to work on reception whenever needed. However I have never liked the fact that the role can be reactive rather than proactive. As a dental nurse, your role is proactive; you know what is happening each day. Of course, a patient's treatment may change, but you have many systems to follow to ensure a positive result. As a receptionist there is usually a lack of systems and understanding of the role.
Training the front desk team to handle new patient enquiries which lead to conversions, to deal with a busy phone and desk, and to handle patients' objections is essential. Implementing systems is also critical, and it is essential that everyone on the front desk works as a team to follow these systems.
Dentists, practice managers and dental nurses are always being given training in order to up-skill, which helps them in their day-to-day roles. However, the front desk staff are often left behind. I find it staggering that on the first day of a new job as a receptionist you are asked to answer the phone! The phone is one of the most important pieces of equipment in the dental practice. I also find it staggering that the front desk team are rarely told the average new patient spend for their practice. If your average new patient spend was £1000 you wouldn't miss a phone call, nor would you let the phone ring more than three times!
The final thing I find staggering is that practice owners do not share the statistics from their website with the team. Many practices spend a small fortune every month to get people to visit their websites - 600 visits could equate to five forms being filled in and five new patient phone calls. These statistics must be shared with the front desk team for them to be able to really help the practice to generate more income.
Further, if the front desk team are not trained to convert calls and to use descriptions for treatments that build value in the treatment in relation to the fee, how are they supposed to help the practice meet its goals?
The front desk gives the first impression of the practice. There are many statistics that show how quickly people make their minds up, and it is imperative that your front desk team is enabling a suitable perception. After all, the first impression a new patient has of the practice also gives the impression of the clinical dentistry, and you need that to be outstanding!
I like helping to up-skill the front desk team by trying to make their roles as proactive and stress-free as possible. There is no getting away from the fact that it is a high-pressure role; just the one aspect of delivering outstanding customer care is tiring in itself, and there are many other responsibilities that the front desk team have in relation to ensuring business success.