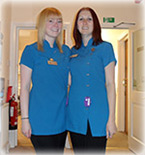 DNN launched 'Dental Nurse of the Year' in 2010. It is an annual occasion for colleagues and practices to show appreciation and support for someone they believe has been an outstanding dental nurse. DNN received lots of nominations, all honest, engaging and inspirational stories. It has been an opportunity for dental nurses and other dental health care professionals to stand back and show recognition and appreciation for all the hard work that lots of dental nurses do.
DNN asked practices and colleagues to think of someone who has made a difference to their practice, who may have won awards, someone who has been extremely successful in developing their careers or even someone who always evokes dedication and consistency.
After much deliberation, DNN are very happy to announce that this years winner of 'Dental Nurse of the Year' 2013 is Stacey Salter. Stacey has won a luxurious Fortnum & Mason Hamper, a gift from Henry Schein Dental and a place on one of DNN's courses this year.
Stacey's Story
Stacey was nominated by Jessica Whitehouse a fellow dental nurse. Jessica described Stacey as an inspirational role model.
Jessica'Just watching the way Stacey is with patients has motivated me to want to be the best nurse I can be. She has spent evenings, lunch breaks and after hours helping me and other nurses out if we were ever stuck. Stacey always goes above and beyond.'
Jessica has been a dental nurse for 3 years and has been mentored and trained by Stacey.
Jessica, 'Dental nursing, was just a job at the time. I wasn't planning on staying in the role but I soon became really comfortable and Stacey really helped me to gain confidence. I then decided that this was something that I could make a career, not just a job.'
Jessica commented, that now from support of Stacey she has decided to pursue a Chlidren's Nursing Qualification.
Stacey, like Jessica got into dental nursing straight after school. Stacey spent a year as a trainee but didn't like it at first so left. However, she went back to dental nursing a few years later and has now been a dental nurse for 7 years. Stacey is head nurse and is currently training in an implants course. She also has a qualification in Radiography and trains all new nurses. She is committed to helping nurses develop further in their careers.
We asked Stacey what the best part of her job was she replied,
'The patients! My favourite treatment is implants. I really love my team and the staff surrounding me. I really am passionate about dental nursing and believe that we deserve more recognition. Nowadays, there are so many courses you can do that this recognition is beginning to be achieved.'
Jessica mentioned, 'Stacey has also encouraged other dental nurses at our practice to develop their careers. There are several nurses who are looking into post-qualifications in hygiene with Stacey's help and support.'
Stacey has been recognised for her ability to balance her further studies as well as the running of the clinical side of the surgery. Stacey is an inspirational figure to all her team. They look up to her hard work and determination to not only better herself but the practice and the whole team.
Jessica 'She is the rock of our dental practice. She is a hard working head nurse, who has trained several nurses. She has helped many achieve a high standard of patient care. Stacey runs round like a headless chicken looking after everyone but she never complains.'
Stacey and Jessica both work at the Castle Hill Dental Practice, in Devon. It is a small practice, where everyone knows everyone. It is in a rural town which offers both Private and NHS treatment.
'It is a very close knit practice, we're part of the community.' Jessica expressed.
Stacey said, 'It is a very supportive place. We are all encouraged to take courses and enhance our skills and abilities. All the qualifications and training I have done I did at Castle Hill.'
DNN asked Stacey how she felt about winning the award, 'I cried, I was so happy. I didn't know anything about it. It took me ages to believe Jessica but I'm so happy!'
Stacey's advice for other dental nurses is 'to go for it, be hands on! Interact with patients as much as possible. This can put you in good stead to pursuing the role as a hygienist or therapist for example.'
Stacey is hoping to gain training as a sedation nurse as her next step in her career. Her dream is to maybe pursue a hygienist's role, a therapist's role or even a manager's position in the future. She is dedicated and passionate about working her way up further in her career.
Jessica named Stacey's best qualities as friendly, hard working and inspirational. If Stacey ruled the world for one day Jessica said, 'She would make everyone want to wake and think 'I want to go to work today' and keep a smile on everyone's face with her infectious laugh.' Stacey is also known for her baking abilities. Cherry baked tart being popular amongst the practice!
Jessica also commented, 'Stacey has had a tough few years in her personal life but still always manages to make us laugh even when we are meant to be comforting her. I am so lucky to have had such an amazing mentor from day one, making me the nurse I am today.'