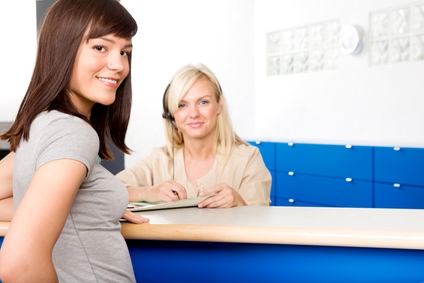 The role of the dental receptionist is very important as it is often the receptionist who the patient meets first. Dental receptionists also play a large role in the smooth running of the dental practice. Being a dental receptionist is a very demanding job that comes with a lot of responsibility. Because of this, it is important that as the front of house you are:
• Friendly and warm towards patients
• Patient
• Well organised
• Have a friendly, professional telephone manner
• Able to work under pressure
Do I need any qualifications to be a dental receptionist?
No specific qualifications are required however most dental practices expect satisfactory if not good grades in the core GCSE subjects, particularly English and Maths. Becoming a dental receptionist often leads to the opportunity to train as a dental nurse and many dental receptionists perform both roles, which is a nice variety for a lot of people. If you are a dental receptionist wishing to become a dental nurse, then there are two routes into dental nursing, the NVQ or the national certificate. Information can be found at www.nebdn.org.
So what is it that dental receptionists actually do then?
Probably the most obvious job is greeting patients and checking them into the computer system. Checking their details on arrival is also important so that patients can be contacted by phone, letter or email should they need to be. A nice touch for patients is that you try and remember faces and names of patients so that you build relationships with them. Other jobs include:
• Answering the phone
Patients will phone the practice for many reasons including making/rearranging/cancelling appointments, wanting to register/de-register as a patient, changing their details, seeking dental advice, insurance queries and filing complaints (which is hopefully rare!). Dental receptionists may also receive business calls which will usually be forwarded to the practice manager or dentist. It is important to remember to be very friendly, helpful and patient when speaking on the phone. Remember, it is the receptionist at that present time representing the practice.

• Sending out appointment reminders and recalls
When patients book an appointment, it is very helpful to send them a reminder to ensure that they attend that appointment and do not waste any of the dentist's time. Appointment reminders can come in the form of a letter, email, text message or phone call. It is up to the practice whether reminders are sent for every single appointment or just routine exams and hygiene visits. Recalls are sent to patients who do not pre-book routine appointments and need informing that they are due to attend. Many patients will forget that they are due an appointment so by reminding them by any of the above ways of contact, the practice is ensuring that they are not putting their oral health at risk by not attending.
• Taking payments and managing the till
Whether the practice is NHS, mixed or fully private, money will need to be handled by the receptionist. Every practice should have a smooth system with regards to alerting reception of balances due and the patient should always have their account explained to them prior to payment being taken. Practices generally accept most methods of payment in order to make paying for treatment as easy as possible. When inputting into the patients account, it is important for the receptionist to correctly state which method of payment the patient used and the correct amount, so that the till is correct at the end of the day. A treatment plan stating the balance due is usually given to the patient and receipt of payment should be given to the patient as proof of payment. At the end of the day, the receptionist usually checks the till is correct and stores away any card transaction receipts/cheques.

• Dealing with patient referrals
Patients often get referred to specialists for treatments/services such as orthodontics, sedation, implants and oral surgery and periodontal treatment. It is important to keep the patients record up to date with treatment progress and any phone calls or correspondence (letters, emails, faxes) with regards to the referral should be documented, scanned/photocopied and filed away. Referrals can often be a long, frustrating process for patients so it is nice to keep the patient up to date where possible.
• Contacting laboratories and checking lab work
Dealing with lab work such as crowns, dentures and orthodontic appliances are an everyday task for the receptionist and dental nurse. It is common for dental practices to check the day before the lab work is due that it will arrive on time. How unprofessional would it be for the patient to arrive for their appointment and their dentures are in fact still at the lab? It is advised to check the day before for absolute certainty. Most dental practices organise day-lists for the following day with various things checked and prepared for, such as the arrival of lab work. Sometimes receptionists and laboratories will need to liaise with each other with regards to other concerns such as holiday opening and closing dates- how unfortunate would it be to do a crown preparation and send off the lab work to then realise that the lab has in fact closed for Christmas?
• Keeping a well-organised filing system
It is very important for receptionists to maintain a well-organised filing system so that if any documents need to be retrieved, they can be quickly and without any problems or delay.

Other administrative duties in the dental practice include stock control and ordering, dealing with insurance claims and dealing with incoming and outgoing post, however a lot of additional administrative duties are often dealt with by the practice manager.

Interview with Barbara Whittaker
(Private Dentistry's 'Receptionist of the Year 2011')

Q/ So, Barbara, what do you think are the best and worst features of working as a dental receptionist?
A/ The 100% best thing is meeting and greeting patients, old and new and making them feel comfortable and happy in your environment. I'd say the worst, personally, is the idea of not meeting the needs of a patient and also trying to keep both the patients and the clinicians happy at the same time! Balancing the diary to please both is very tough.
Q/ What have been your highs and lows of your career so far?
A/ Winning this award is definitely the highlight of my career. It's great that after 10 years of devoting myself to the practice and to our patients, my effort has been recognised. I also love the banter I have with patients, many of which are now my friends. I haven't really had any lows; I suppose at times there has been immense pressure, especially as we are such a forward-thinking, advanced dental practice. There have been some tough times but luckily, I'm part of a strong, close team. It can also be difficult for surgery staff to understand just how difficult it is being on reception!

Q/ What advice would you give to anyone currently working as a dental receptionist or considering becoming one?
A/ You need to just go for it! Be outgoing, courteous and reassuring; your patients need a friendly face and compassion when they visit the practice. You need to have the skills to gel with patients. It is also important to be able to take constructive criticism. Reception plays a big part in how successful the practice runs so be graceful and take help and advice like a professional.

Q/ Finally Barbara, would you recommend that receptionists learn as much as they can about dentistry? Do you feel this is important?
A/ For receptionists like myself that aren't dental nurses, I cannot stress enough how beneficial it would be to learn as much as you can about dental procedures, products and also dental infections/diseases. It will help you so much if you understand the reason why a patient needs treatment and what the treatment involves. You can provide more support to the patients that way. It also does wonders for your confidence!

Thank you, Barbara.